COMETH - Ethernet-to-Serial Single-Port Device-Server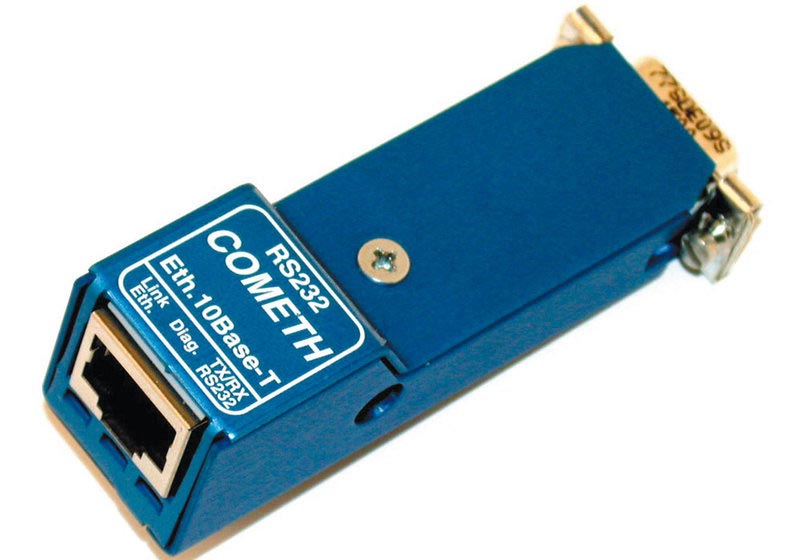 close
Please fill in all fields.

» PDF datasheet, specs
Benefits
Ethernet-to-serial server/converter.
Compact "dongle" design.
MODBUS/TCP (slient/server) protocol supported.
Very Compact Ethernet-to-Serial Server - "Plug-on Dongle" Design.
COMETH range products give access to any serial equipment from Windows (up to Windows 10), Unix & Linux computers connected to your ethernet TCP/IP network, make it possible to communicate between two distant serial equipments through the network or even build an ethernet/MODBUS gateway.
Ethernet TCP/IP serial device server/single port server.
For IT&T, industrial automation (SCADA), point-of-sales (PoS), medical applications, office, security technology and more.
Compacte "dongle" design.
RS232, optional RS422/485.
RS/ethernet isolation 1500 VRMS.
LED signaling of RS and ethernet transmission.
Easy administration from serial port or ethernet.
Access to serial equipment from devices at the ethernet TCP/IP. No changes in the existing software required. Uses standard COM ports.
MODBUS/TCP (client/server) protocol supported.
Ethernet: 10Base-T 10/100 (RJ45).
Serial: RS232 model TxD, RxD, RTS, DTR, CTS, DCD, RI (optional RS422/485 model -Tx, +Tx, -Rx, +Rx).
15 kV ESD protection.
Modell Overview
| | |
| --- | --- |
| Model | Description |
| COMETH | Ethernet to serial single port device server, compact "dongle" model |
| COMETH-FIELD-RD | Ethernet to serial single port device server, DIN-rail mountable module |
Included: Module, instructions for use.