CANWAY CW-305 MkII Autonomous Cable Tester with Touch Display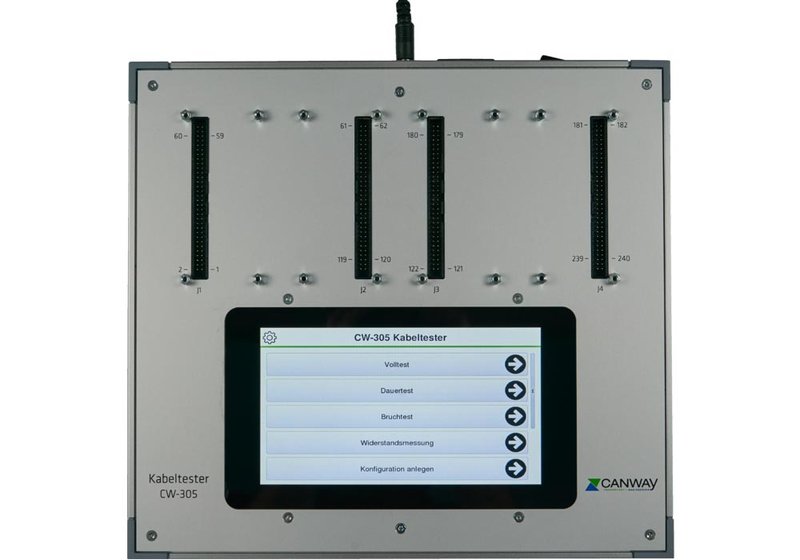 Benefits
PC-independent cable tester, can be operated without PC software.
Convenient operation with 7"/17.8 cm touch display.
Very robust construction for productive use.
CANWAY CW-305 MkII Universal Cable Tester, PC-Independent with Touch Display
The CANWAY CW-305 MkII is a universal cable tester for tests of continuity, line breaks, short circuit, volatile/intermittent faults (e.g. loose/poor contacts) and line resistance. The device has a total of 240 universally usable signal lines. The cables to be tested are connected to the signal lines/base unit via plug-on modules. The cable to be tested is plugged into one of the two adapters on each side. The adapters are therefore always required in pairs. The adapters are available separately, so that, if required, a suitable adapter combination can be used, e.g. to test cables with D-sub male-to-female connectors.
The device offers intuitive and quick operation via the integrated touch display. Once the details of the cable have been automatically learnt, its configuration is stored on the device and can be used as a reference for all available line tests.
In the full test mode, all signal lines are checked and line breaks as well as short circuits are displayed immediately. The line resistance for each line can also be measured. Line breaks and volatile/intermittent faults (loose/poor contacts) can be detected by a cyclic endurance test. In this mode, the test result is visualized as a Go/No-Go statement.
240 freely available signal lines.
Test of continuity, open circuit and short circuit.
Precise measurement of line resistance.
Plug-on module for a wide range of different cable types, for example module for D-sub connector types; optional individual customer specific connector configurations.
Learns, stores and loads cable configurations.
Very short test duration.
User-friendly operation via 7"/17.8 cm touch screen display.
Individual cable and pin designations in test results.
Particularly rugged design.
Features Base Unit
Model
CW-304 MkII
Signal lines
Number
240
Cable resistance max.
30 kO
Cable capacitance max.
1000 pF
Power supply
Operation voltage
9 VDC (power adaptor, 230 V, included)
Power consumption
700 mA at 9 VDC (no load at USB port)
Plug-on modules
Type
Accessories: Modules for D-Sub (25-, 37- and 50-pin) and others;
customized modules on request
Linetest and operation
Linetests
Continuity, line break, short circuit, intermittent error and line resistance
Resistance measurement
Resolution: 0.1 O; measurement range: 0...1 kO
Operation
Integrated 7"/17.8 cm touch display
Testing time
approx. 5 s for full test
Interface
USB 2.0; for: Loading/saving test configurations from/to USB stick; load adaptor descriptions; firmware updates
General
Housing
Robust aluminium-housing, protection class IP40
Dimensions
300 x 275 x 60; approx. 2800 g
Environmental
Temperature range operation -20...+60°C, storage -20...+70°C; rel. humidity 35...85% non-condensing
Included: Cable tester CW-305 MkII (91300-00030) without plug-on modules; incl. power adaptor.