erfi elneos five POWER-32A-32A Regulating Double Power Supply with Arb. Function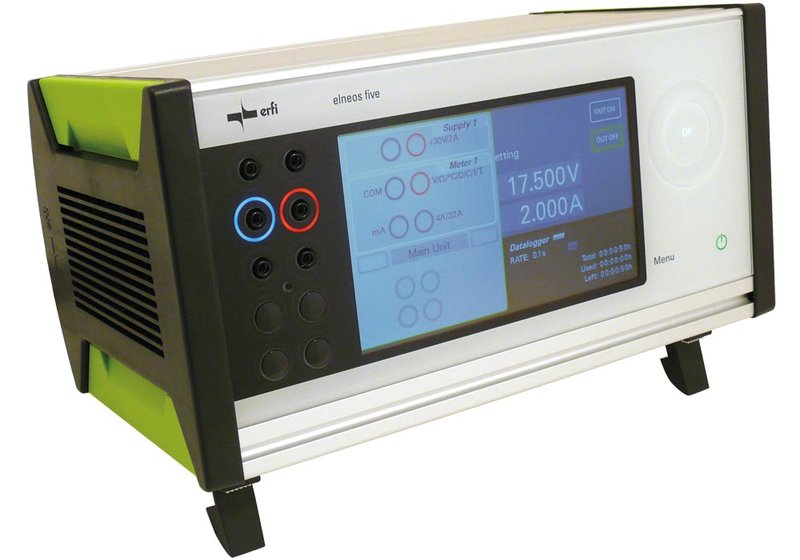 close
Please fill in all fields.
Benefits elneos five POWER-32A-32A Precision Regulating Double Power Supply with Arbitrary Function
The precision regulating double power supply from the elneos five series with arbitrary output function.
Intuitive multitouch operation with up to 5 fingers.
Full-width glas surface - scratch resistant, imprint-free and abrasion-proof, break-proof.
erfi elneos five POWER-32A-32A Precision Regulating Double Power Supply with Arbitrary Function
The erfi elneos five POWER-32A-32A (EL5S.32A.32A) is an innovative high-precision regulating power supply with 2 channels, range 0...30 V/0...2 A each and arbitrary output functions. The unique operation and control technique makes the device easy to use and still offers a wide variety of functionality.
The erfi elneos five series combines uncompromising reliability, clever functionality and an intuitive control concept with a sleek design. The devices' full-width glas surface is scratch resistant, imprint-free, abrasion-proof, and break-proof. You can operate the devices as simple as your smartphone with gestures using up to 5 fingers. Use 2 fingers for example for zooming, 1 finger swiping for the change of devices and call-up of the connection panel, or a 3finger gesture to activate the safeguard function. Even unexperienced users can quickly learn how to use the devices effectively. Connectors with intelligent RGB LED light provide a simpley way of connectivity with a high level of safety. Depending on the connector, the rings light up when contacting is requested. The connectors are permanently lit when the output is active.
Precision regulating double power supplies with arbitrary output function from the erfi elneos five series.
7" multitouch display with capacitive surface.
USB 2.0 and Ethernet interface; controlled with SCPI commands.
3 U benchtop housing.
Precision regulating power supply, 2 channels, range 0...30 V/0...2 A each.
Constant voltage (CV) and constant current operation (CC).
Free programmable ramps in tabular form. Visualiation in X-Y chart (4 graphs simultaneously).
Read-out of all device conditions.
Adjusting precision 14 bit D/A-converter (1 mV, 1 mA);
measuring precision 16 bit A/D-converter (1 mV, 1 mA).
Ripple voltage 100 µVRMS, current: 200 µARMS.
Integrated square-wave generator up to 250 Hz in load.
Power arbitrary generator:

Standard waveforms: Sine, square, triangle; duty cycle: variable.
Frequency: All signal shapes up to 250 Hz.
Sequencer enables various signal shapes with different frequencies for serial cascation.
Limit value function with digital output.
Digital trigger input.
Data logger: 4 measurements with 2000 measured values each.
Display of measured values numeric or X-Y graph (4 graphs simultaneously), scalable with 2 finger gesture.
Model Overview - Included elneos five Options
Model
Power supply
EL5.xx*
Arb. power supply
EL5.xxA
Multimeter
EL5.D
Multimeter + power meter
EL5.P
Function generator
EL5.F
Function and arb. generator
EL5.S
Control center
EL5.1
Housing
EL5.SA1.56.1
elneos five POWER-32A-32A
EL5S.32A.32A

✓

2x (0...30 V/0...2 A)

✓

✗

✗

✗

✗

✓

✓
* This device option in already included in the corresponding option EL5.xxA.
Included: elneos five POWER-32A-32A (EL5S.32A.32A), including options 1x EL5.1 (control center), 2x EL5.32A (regulating power supply with arb. function), EL5.SA1.56.1 (benchtop chassis 315 x 185 x 161 (mm), 3 HU/56 TU).
Do you have to work with a combination of several instrument types? For example a power supply and a multimeter/power analyzer, or a kultimeter and a function generator, or a multichannel power supply with the same or differing outputs?
One of the powerful features of the elneos five serie is the possibility to combine several instruments in one chassis.
Advantages:
Clear and compact, all in one casing.
Consistent, intuitive elneos five multitouch 5-finger operation.
Consistent remote control via 1x USB or Ethernet/LAN.
Click here to read more about instrument combinations and examples. Or send an E-Mail to sales@meilhaus.de or call - we help you to find the optimal configuration!