Keysight InfiniiVision Software Promotion 9.019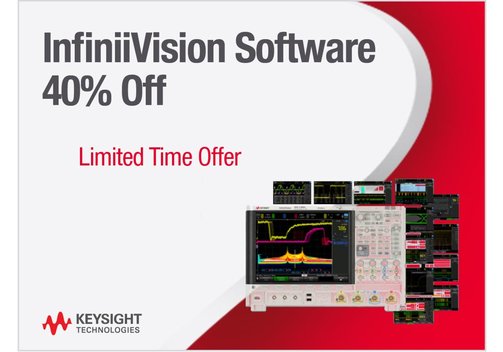 Keysight InfiniiVision Software Promotion 9.019: Make Your InfiniiVision Oscilloscope Even Better!
Time of validity: Until April 30., 2023.
Description: This offer is valid for software purchases with a new scope order or as a stand-alone to install on your existing InfiniiVision Oscilloscope.
Qualifying software solutions at 40% discount (as to list price):

Aerospace and Defense Software: D3000AERB, D4000AERB, D6000AERB
Embedded Analysis: D2000GENB, D3000GENB, D4000GENB, D6000GENB
Automotive: D2000AUTB, D3000AUTB, D4000AUTB, D6000AUTB
Power Analysis: D3000PWRB, D4000PWRB, D6000PWRB
USB: D3000USBB, D4000USBB, D6000USBB
Bundle: D2000BDLB, D3000BDLB, D4000BDLB, D6000BDLB

How to: Simply add this promotion article to the desired and qualified InfiniiVision software option (see "Accessories") in the web-shop basket.