Picoscope Automotive 4-Channel Advanced Kit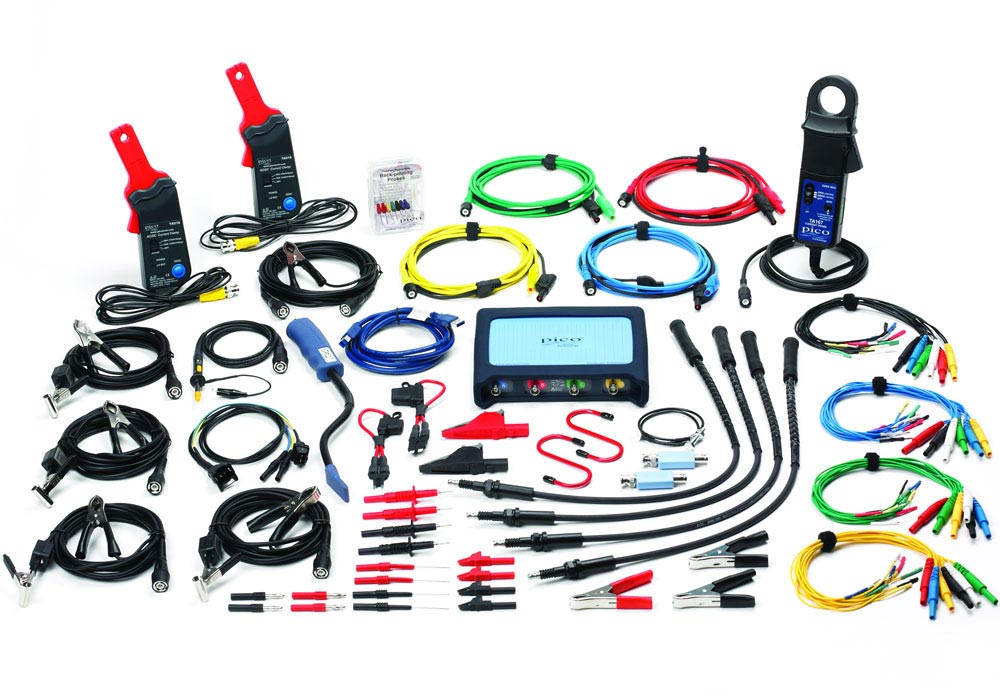 EOL/obsolete. Recommended replacement product: ▸PicoScope-4425A and Kits
Benefits
Automotive diagnosis kit: 4-channel advanced kit.
Including 4-channel USB 3.0 PC automotive oscilloscope and the versatile Pico Automotive software.
Accessories for advanced diagnostic applications.
4-Channel Automotive Oscilloscope Advanced-Kit
The PicoScope 4-channel test kits with their versatile software are designed to make diagnostics and testing of vehicle electronics and components intuitive and logical. The powerful software makes it easy for you to diagnose vehicle faults. Packed with features such as automated measurements and the ability to save and print waveforms, PicoScope automotive is the ultimate tool for your diagnostic toolbox.
High resolution 4-channel 12 bit USB 3.0 scopes of the Picoscope series 4000 with versatile automotive diagnostics software.
Automotive diagnostic kits - depending on version with transportation case, software and accessories for various tests straight out of the box.
Various kit versions from starter kit, standard kit to advanced kit.
Model Overview
Included: 4-channel automotive models with special software for automotive diagnostics. USB 3.0 scope, CD with software and user manual, USB 3.0 cable.
Automotive kits: Scope and various accessories.
The accessories included in the kits are also available as single items in the shop.
Software: Diagnostic automotive software for Windows 8, 7, Vista, XP, 2000 (no driver software/SDK).
Kit Contents
Model
Advanced 4-channel
PP925
PR216
PicoScope 4425 4-channel & boot
1x
PR226
PicoScope 4225 2-channel & boot
-
MI007
Oscilloscope probe for use with CAN, LIN and FlexRay signals
1x
MI074
Secondary Ignition Pickup
4x
MI168
S hook
2x
TA001
Multimeter style test probe black
2x
TA002
Multimeter style test probe red
2x
TA003
Small crocodile clip black
2x
TA004
Small crocodile clip red
2x
TA005
Dolphin clip black
1x
TA006
Dolphin clip red
1x
TA008
Electronics acupuncture kit (backpinning)
1x
TA012
2 pin breakout lead
1x
TA016
Shrouded to unshrouded 4 mm adaptor black
2x
TA017
Shrouded to unshrouded 4 mm adaptor red
2x
TA018
20 A/60 ADC current clamp
2x
TA024
Breakout cable small
1x
TA025
Breakout cable medium
1x
TA026
Breakout cable large
1x
TA033
Lead: BNC to BNC with earth clamp
1x
TA037
Spark plug extension test lead
4x
TA063
Breakout cable micro
1x
TA106
Earth wire for coil pack 45 cm long
1x
TA125
BNC to 4 mm test lead - BLUE
1x
TA126
BNC to 4 mm test lead - RED
1x
TA127
BNC to 4 mm test lead - GREEN
1x
TA128
BNC to 4 mm test lead - YELLOW
1x
TA155
1.8 m Pico USB 3.0 Cable
1x
TA157
Battery clip (red)
1x
TA158
Battery clip (black)
2x
TA161
Flexible backpinning probe (black)
2x
TA162
Flexible backpinning probe (red)
2x
TA197
High bandwidth 10:1 attenuator
2x
TA203
Premium test lead: 5 M BNC to 4 mm black permanent ground
-
TA204
COP & signal probe
1x
TA034
Breakout lead for ATC style fuses
1x
TA035
Breakout lead for mini style fuses
1x
TA167
New current clamp (2000 A/200 A) with BNC
1x
TA168
JCase fuse extension lead
-
DI028
PicoSoft Software CD
1x
DI090
Pico Advanced Vehicle Diagnostics DVD
1x
DO136
Poster: ECU A1
1x
DO155
Quick start guide
1x
DO160
Poster: PicoScope automotive
1x
DO197
Catalogue: Automotive accessories
1x
PA084
Standard case - jazz
1x
TA019
600 ADC current clamp
-