AnyplaceUSB-S2/-S4 2- and 4-Port USB over Ethernet Server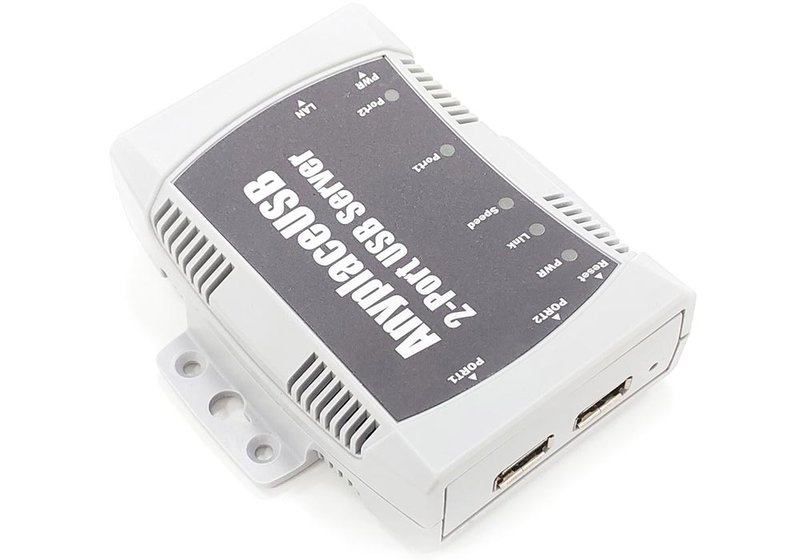 close
Please fill in all fields.
Benefits
USB over IP server.
2 or 4 USB ports can be shared over Ethernet network.
High data security with password authorization and traffic encryption.
AnyplaceUSB-S2/-S4 2- and 4-Port USB over Ethernet Server
AnyplaceUSB-S2 and -S4 are compact USB over IP servers. They support two or four USB 2.0 ports. The servers offer USB over network sharing functionality. The USB device connected to the AnyplaceUSB-S2/-S4 module can be shared and accessed by network computers over a wired or wireless network from anyplace in the world. The USB over IP server, when used in conjunction with the AnyplaceUSB software, enables USB remote connection. The software app makes the USB port available to be accessed, shared and used over IP, LAN, WAN, VLAN, VPN and the internet from any remote location.
Provides two or four networked USB 2.0 over Ethernet device ports.
Password authorization and traffic encryption for data security and safety.
Any authorized users in an office next door or in another country may remotely access your USB devices through AnyplaceUSB app client.
Supports high speed isochronous USB devices.
Able to share USB security software protection dongles conveniently using features of AnyplaceUSB software program.
LEDs for power and USB status indication.
Includes a DC 12 V/1 A switching power adapter.
CE, FCC approval.
Model Overview
Model
AnyplaceUSB-S2
AnlyplaceUSB-S4
Part number
856021
856041
USB ports
2
4
USB
USB 2.0 and 1.1 compatible; 480 Mbps, USB 2.0 HighSpeed
Ethernet ports
1
1
Ethernet
10/100 Base-T Fast Ethernet, RJ45 connector; protocols: TCP/IP, static IP, DHCP
Protection
Overcurrent protection 500 mA
LED
System status, network
Power
External power adaptor (included), DC 12 V/1 A; 500 mA downstream power
Dimensions (mm)
106 x 97 x 32; 110 g; plastic chassis suitable for DIN rail mounting
Environmental
Temperature 0...55°C (operating), -20...75°C (storage), 5...90% relative humidity, non-condensing
Safety Approvals
CE, FCC