dydaqmeas DM-800-8P Web-based Intelligent DAQ System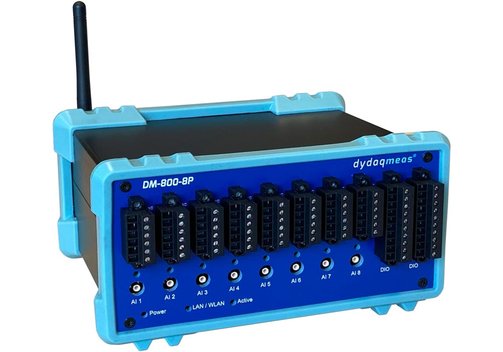 close
Please fill in all fields.
Benefits of the dydaqmeas WLAN/LAN Measuring System, 24 bit
Intelligent, WLAN/LAN/web-based with cloud connection.
8 differential, independent analog inputs, 24-bit resolution.
Powerful ARM processor with integrated web server.
dydaqmeas DM-800-8P Web-based Intelligent Measurement System
The dydaqmeas is a versatile, web-based measurement/DAQ system. It features ARM processor intelligence for measurement data preparation and processing. The dydaqmeas offers 8 differential, individually configurable analog inputs with 24-bit resolution and each configured up to 256-kHz sampling rate for voltages, currents or direct connection of IEPE sensors. In addition, there are 6 digital inputs with additional functions as capture and quadrature decoder inputs. Due to the processor intelligence many operations are possible directly in the device, e.g. channel calculations, FFT, threshold monitoring with alarms, switching reaction or sending of e-mails. The communication with dydaqmeas is done via WLAN or LAN. For data transfer of single values to a cloud the MQTT protocol is supported furthermore the FTP protocol.
Web-based, intelligent measurement system with quad-core ARM Cortex-A72 processor (1.5 GHz clock speed) and integrated web server.
8 differential analog inputs:

24-bit resolution.
AC/DC coupling configurable per channel.
Input impedance 900 kΩ.
Sampling rate max. 256 kHz per channel (sum sampling rate max. 800 kHz).
Overvoltage protection ±40 V.
Input variables: voltage (±10 V, ±1 V), current (±20 mA, 0...20 mA), IEPE vibration sensors.
Switchable ICP source 4 mA.

Digital I/O:

4 TTL compatible digital inputs (max. ±40 V).
inputs can be used as capture inputs or quadrature encoders.
Input frequency max. 5 MHz.
2 electronic relays (40 V switching voltage at 1 A).

1 GS internal data memory, optionally up to 16 GS.
WLAN and LAN host interface; configuration interface: WLAN hotspot.
Integrated web server.
Convenient web interface for configuration and display of measurement data.
Connection to industrial cloud solutions via MQTT protocol.
Supply voltage 10...36 VDC.
Operating temperature range 0...+40°C.
dydaqmeas as an Edge Computer with Web Server
The dydaqmeas measuring/DAQ system is at the same time a powerful edge computer with integrated web server. The functions are set up and managed via the comfortable web interface in a standard browser.
Model Overview
Model
dydaqmeas DM-V-002-A1
Analog inputs
8, differential, galvanic isolation behind A/D converters
resolution 24 bit
Sampling rate (max.) per channel 256 kHz, total sampling rate (max.) 800 kHz
Input resistance 0.9 MΩ
Coupling: AC/DC adjustable per channel
Overvoltage protection ±42 V
Input ranges ±10 V, ±1 V, ±20 mA, 0...20 mA
Sensor supply 24 V per channel switchable
Sensor connection IEPE sensors
Switchable 4 mA current source
Digital inputs
6, TTL level
Additional functions: 2 capture inputs (occupy 2 digital inputs; measurement modes: Frequency, period duration, pulse width; input frequency: 1 Hz...1 MHz)
1 quadrature encoder input (occupies 3 digital inputs; operating mode: 4-fold input signal, max. 30,000 rpm for an encoder with 1000 increments
Relays
2, switching voltage 40 V max. at 1 A
Processor/memory system
Quad-Core ARM Cortex-A72 with 1.5 GHz clock rate; data memory type eMMC, size 1 GS, expandable via USB stick
Interfaces
WLAN, LAN host/data interface, optional GPRS, G4/LTE
Connections
Phoenix terminals (6-pin) and SMB sockets
Power supply
10...36 VDC
Dimensions (mm)
182 x 95 x 146
Included: dydaqmeas, external desktop power supply, WLAN antenna.