HIOKI CT6000 Series Current Measurement Sensors/Probes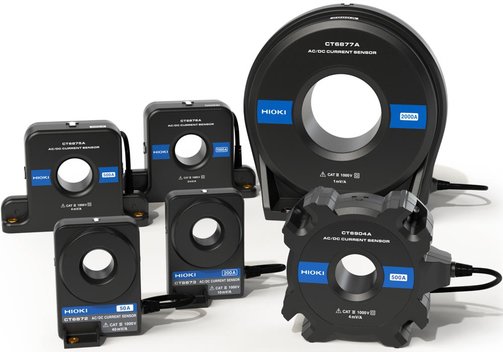 close
Please fill in all fields.
HIOKI CT6000 Series Current Measurement Sensors/Probes
The HIOKI CT6000 series are a series of current measurement sensors/probes for a variety of applications. The series includes clamp-style probes as well as pass-through sensor types for high-accuracy measurements. The models CT6710 and CT6711 can capture inrush, micro and high-speed currents with a single probe. They cover a frequency range up to 50 or 120 MHz.
Model Overview
Model
Type
Frequency characteristics/bandwidth
Measurement range (RMS)
Max. core diameter
Further description
CT6500
AC current clamp
40 Hz...1 kHz
Primary: 500  AAC, secondary: 1 mVAC/A, max. Input: 600  AAC
46 mm
For LR8513, LR5051
CT6700
Current probe
DC...50 MHz (-3 dB)
5 A max.
5 mm
BNC
CT6701
Current probe
DC...120 MHz (-3 dB)
5 A max.
5 mm
BNC
CT6710
Current probe
DC...50 MHz (-3 dB)
30 A max., 3 Bereiche
5 mm
BNC
CT6711
Current probe
DC...120 MHz (-3 dB)
30 A max., 3 Bereiche
5 mm
BNC
CT6841A
AC/DC current clamp
DC...2 MHz
20  AAC/DC
20 mm
ME15W terminal, automatic sensor detection
CT6843A
AC/DC current clamp
DC...700 kHz
200  AAC/DC
20 mm
ME15W terminal, automatic sensor detection
CT6844A
AC/DC current clamp
DC...500 kHz
500  AAC/DC
20 mm
ME15W terminal, automatic sensor detection
CT6845A
AC/DC current clamp
DC...200 kHz
500  AAC/DC
50 mm
ME15W terminal, automatic sensor detection
CT6846A
AC/DC current clamp
DC...100 kHz
1000  AAC/DC
50 mm
ME15W terminal, automatic sensor detection
CT6862-05
AC/DC pass-through converter
DC...1 MHz
50  AAC/DC
24 mm
ME15W terminal, automatic sensor detection
CT6863-05
AC/DC pass-through converter
DC...500 kHz
200  AAC/DC
24 mm
ME15W terminal, automatic sensor detection
CT6872
AC/DC pass-through converter
DC...10 MHz
50  AAC/DC
24 mm
ME15W terminal, 3 m cable length, automatic sensor detection
CT6872-01
AC/DC pass-through converter
DC...10 MHz
50  AAC/DC
24 mm
ME15W terminal, 10 m cable length, automatic sensor detection
CT6873
AC/DC pass-through converter
DC...10 MHz
200  AAC/DC
24 mm
ME15W terminal, 3 m cable length, automatic sensor detection
CT6873-01
AC/DC pass-through converter
DC...10 MHz
200  AAC/DC
24 mm
ME15W terminal, 10 m cable length, automatic sensor detection
CT6875A
AC/DC pass-through converter
DC...2 MHz
500  AAC/DC
36 mm
ME15W terminal, 3 m cable length, automatic sensor detection
CT6875A-1
AC/DC pass-through converter
DC...1,5 MHz
500  AAC/DC
36 mm
ME15W terminal, 10 m cable length, automatic sensor detection
CT6876A
AC/DC pass-through converter
DC...1,5 MHz
1000  AAC/DC
36 mm
ME15W terminal, 3 m cable length, automatic sensor detection
CT6876A-1
AC/DC pass-through converter
DC...1,5 MHz
1000  AAC/DC
36 mm
ME15W terminal, 10 m cable length, automatic sensor detection
CT6877A
AC/DC pass-through converter
DC...1 MHz
2000  AAC/DC
80 mm
ME15W terminal, 3 m cable length, automatic sensor detection
CT6877A-1
AC/DC pass-through converter
DC...1 MHz
2000  AAC/DC
80 mm
ME15W terminal, 10 m cable length, automatic sensor detection
CT6904A
AC/DC pass-through converter
DC...4 MHz
500  AAC/DC
32 mm
ME15W terminal, automatic sensor detection
Model
Type
Description
CT6280
AC flexible current sensor
Includes C0205 carrying case, for HIOKI CM3281, CM3289, CM3291 and 3280-10F AC clamp meters