Rohde & Schwarz HMP Series DC Power Supplies up to 188/384W Total Power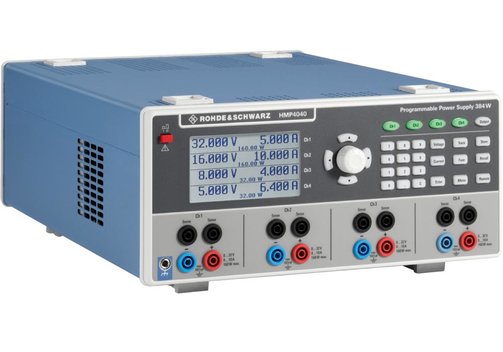 close
Please fill in all fields.
Special Price, Promotion for HMP4040 until March 31., 2023!
Benefits of the Rohde & Schwarz HMP Series DC Power Supplies
DC power supplies with 2, 3 or 4 channels.
All channels with floating galvanic isolion.
Parallel and serial operation.
Rohde & Schwarz HMP Series DC Power Supplies up to 188 or 384 W Total Power
Models R&S HMP2020, HMP2030, HMP4030, HMP4040
The DC power supplies of the Rohde & Schwarz HMP series offer two, three or four galvanically isolated, floating, overload- and short-circuit-protected output channels. The devices are very rugged and primarily designed for industrial use. They offer high efficiency, low ripple and extensive protection functions. The total load can be distributed to the individual channels as desired. Depending on the model, up to 80 W or 160 W channel power (total power 188 W or 384 W) can be drawn in any voltage/current distribution. The channels can also be connected in series or parallel to achieve higher voltages or higher currents.
DC power supply family with 2, 3, or 4 channels, galvanically isolated from each other, floating, overload and short circuit proof.
Total output power 188 W or 384 W.
Output voltage max. 32 V per channel.
Serial operation possible for higher voltages.
Output current max. 5 or 10  depending on model.
Parallel operation possible for higher currents.
Low ripple due to linear readjustment.
Constant voltage and constant current operation.
Tracking and link functions.
Protection functions for device and DUT.
Electronic fuse (OCP/Over Current Protection), adjustable maximum voltage (OVP/Over Voltage Protection), over temperature protection (OTP/Over Temperature Protection).
Optional dual USB/LAN interface, or RS232/USB, or GPIB/IEEE488.
Rear connectors for all channels included.
Modern device concept - small, compact and quiet.
Model Overview
Model
R&S HMP2020
R&S HMP2030
R&S HMP4030
R&S HMP4040
Channels
2
3
3
4
Max. total power
188 W
384 W
Max. power per channel
Channel 1: 160 W
channel 2: 80 W
80 W
160 W
160 W
Max. output current per channel
Channel 1: 10 A
channel 2: 5 A
5 A
10 A
10 A
Max. output voltage per channel
0...32 V
0...32 V
0...32 V
0...32 V
Display
240 pixel x 64 pixel LCD
240 pixel x 128 pixel LCD
Interfaces
Optional dual interface LAN/USB; optional dual interface USB/RS232 (R&S HO720), optional IEEE488/GPIB (R&S HO740)
Dimensions (mm)
285 x 95 x 405
285 x 136 x 405
7.8 kg
8.0 kg
12.4 kg
12.8 kg
Included: Base unit R&S HMP 2020, 2030, 4030, or 4040, power cord set, quick start guide.