instruNet i600 and i601 USB Sensor Data Acquisition System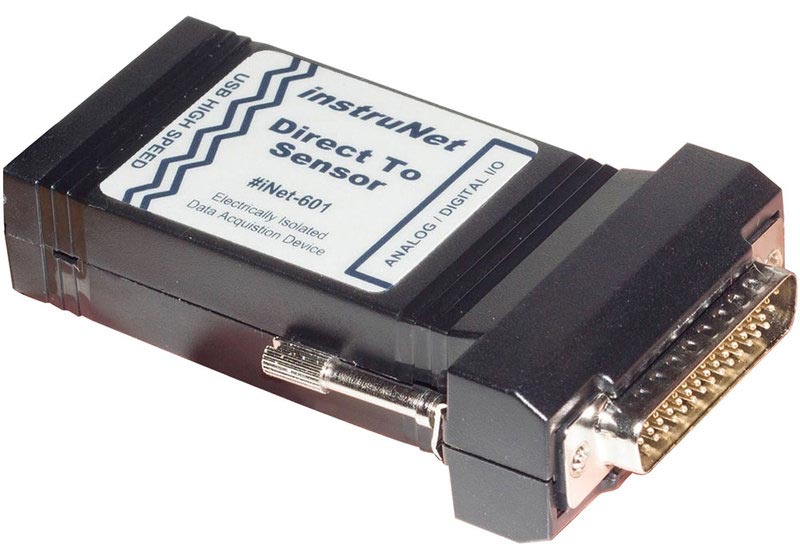 Benefits
Connect up to 8/16 different sensors to your PC without additional/external signal conditioning.
Supports the most important sensor types.
Easy connection, easy to use, versatile support software.
Miniature USB Sensor Data Acquisition System
instruNET i600 and i601 are very compact and extremely accurate data acquisition systems for various sensor types. The instruNet modules are connected to the PC via USB and are USB powered. They offer 16 single-ended or 8 differential, flexible I/O channels for sensors. So they are an ideal solution if you want to connect to your PC and measure up to 8/16 different sensor types easily without additional signal conditioninig. instruNET i600 and i601 come with the Windows stripchart recorder software instruNet World and also run with a variety of other softwares like LabVIEW and MATLAB.
Connect sensors directly to Windows computer: Volts, resistance, current, thermocouple, RTD, thermistor, strain gauge, load cell, pressure, LVDT, flow and accelerometer.
16 single-ended/8 differential voltage input channels with extremely accurate 24 bit A/D converter.
Voltage input ranges: ±20 mV, ±40 mV, ±80 mV, ±150 mV, ±300 mV, ±600 mV, ±1.2 V, ±2.5 V, ±5 V, ±10 V.
Digitize at a maximum sample rate of 160 KSamples/s for 1 channel, 12 KS/s/ch for 2 channels, 6 KS/s/ch for 4 channels or 3 KS/s/ch for 8 channels.
Each channel provides the following sofware-programmable parameters:

A/D signal-averaging-per-point (0...100 ms).
Sample-rate (samples-per-second-per-channel).
Digital IIR filter (lowpass, highpass, bandpass, or bandstop).
Voltage measurement range (±20 mV...±10 V).
Sensor type.
Single-ended or differential wiring.

4x TTL digital I/O (4 mA sink/source, 0...3.3 V), individually configurable as inputs or outputs.
Receives power from USB bus and provides excitation power (+3.3 V, 80 mA, 28 mA per sensor max) to sensors.
Software: Includes free instruNet World strip chart recorder software; or purchase powerful PLUS version. Compatible with Windows min. XP SP3, 32 bit or 64 bit.
The i600 and i601 are compatible with Excel, LabVIEW, DASYLab, MATLAB, Origin, Visual Basic, C/C++.
Model Overview
Model
Isolation
Description
instruNet i601
±36V
Miniature USB sensor DAQ system, provides ±36 V bank electrical isolation
instruNet i600
-
Miniature USB sensor DAQ system, directly connects I/O signal ground to computer ground via USB cable
Model
Optinal Accessories
instruNet i510
Wiring/terminal box with screw-terminals; internal CJC sensor allows thermocouple measurements
instruNet i511
Wiring/terminal box with BNC and screw-terminals, not for thermocouple measurements
instruNet i512
Wiring/terminal box with screw-terminals, not for thermocouple measurements
instruNet World PLUS
Enhanced Windows software for the instruNet i600 and i601
Included: instruNet i600 or i601 device, instruNet i60x hardware kit, instruNet World software/CD, 3 m USB cable.
Direct Connections of Sensors