ITIC-2500A PCI-Express Protocol Analyzer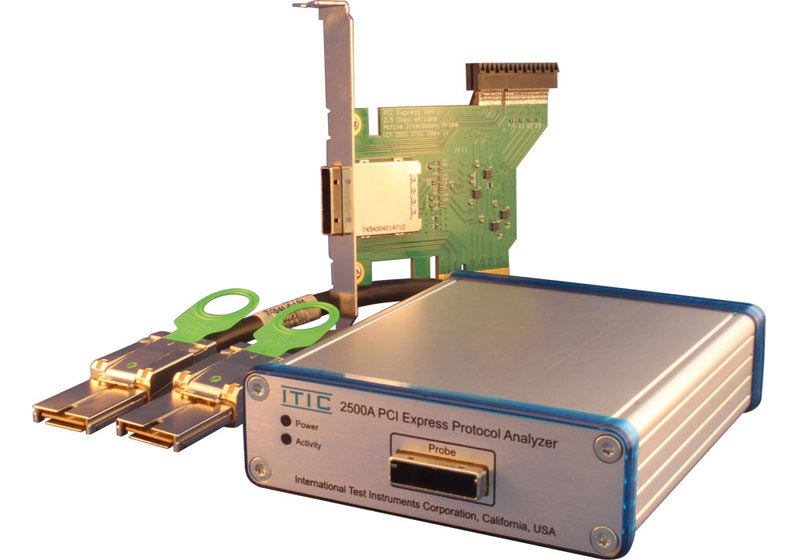 close
Please fill in all fields.
Benefits of the ITIC-2500A Analyzer for the PCI-Express Protocol
Ideal tool for hardware designers: Analyzes the PCI-Express protocol.
Hardware/adaptors and software.
Compatible with PCI-Express 1.1 (2.5 GBit/s).
ITIC-2500A PCI-Express Protocol Analyzer
The ITIC-2500A is a protocol analyzer for PCI-Express. The hardware is comprised of three components:
An active interposer probe for analysis of 2.5 Gbps (Gen1) x1, x2 and x4 PCI-Express plug-in cards,
a 1 m external PCI-Express Molex x4 iPass Cable and
the ITIC-2500A PCI-Express protocol analyzer.
PCI-Express 1.1 (2.5 GBit/second) compliant.
User-selectable x4, x2 and x1 link width configurations.
User-selectable 2 Gigabyte to 64 Kilobyte capture buffer. A selectable capture buffer size allows for smaller data files when saved to hard disk.
A powerful 48 MHz Cypress FX2LP microprocessor implements on-demand upload of data via USB 2.0 after a completed capture. This allows you to immediately view data after the capture without having to wait for lengthy uploads of the full trace data.
Programmable Sequence Detectors to detect the location of pre-defined as well as custom data sequences, for quick data display.
An 8-level trigger with up to 2048 byte deep data detection per trigger level allows triggering on very long data sequences. In total, data sequences up to 16 Kbytes in length can be triggered upon.
A TTL-compatible Trigger in/out port allows synchronization with external test instruments.
Microprocessor firmware and FPGA configuration are automatically updated with the PC application software. No separate and complex hardware re-programming is needed.
Included: Active Interposer Probe, 1 m external PCI-Express Molex x4 iPass Cable, ITIC-2500A PCI-Express protocol analyzer.