SECUTEST BASE and PRO Tester for Measuring Electrical Safety of Devices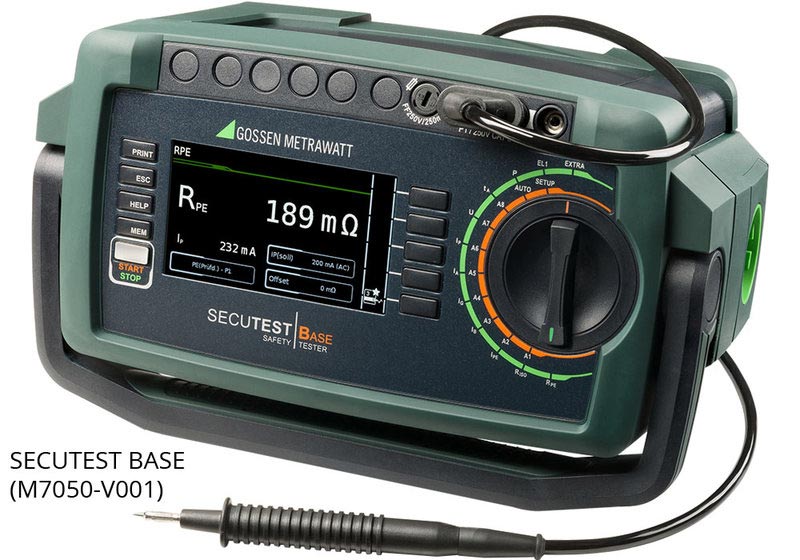 EOL/obsolete, not available anymore
Benefits
Pre-configured testing sequences for fast test of electronic devices.
Versatile data management and storage concept for automatic test sequence and single measurements for up to 50,000 data sets.
Fast access to measurement and test functions with rotary switch, direct select buttons and softkeys.
Test Instruments for Measuring Electrical Safety of Devices According to VDE 0701-0702, IEC/EN 62353 (VDE 0751) and IEC/EN 60974-4 (VDE 0544-4)
Adherence to laws, regulations and standards made easy! Testing of the electrical safety of electrical devices is necessary in many applications and is required in accordance with legislation and regulations set forth by official authorities, operating companies and insurance carriers. Tests must be conducted as a preventive measure after each repair, and within the framework of work safety, at regular intervals in order to protect users.
8 pre-configured (freely adustable) test sequences per standard to perform standardized tests for electrical, medical and welding instruments one freely configurable test sequence for special duties.
Suitable for persons with basic electro-technical training due to automatic evaluation of executed test sequences in consideration of measuring uncertainty.
Pioneering operating concept with double rotary switch, direct selection keys and softkeys.
Revolutionary data management and storage concept for automated test sequences and single measurements in a database with memory for up to 50,000 data records.
Voltage measurement up to 300 V for testing SELV/PELV circuits.
Measurement of leakage current with a bandwidth of up to 1 MHz.
Individual measurements can be stored as manual test sequences.
RPE measurement with rising test current on the active test socket (enables the testing of devices with built-in PRCDs).
Quick export and import of the database (on USB or in ETC).
Direct printout of test reports or test report management with free ETC report software.
Model Overview
Model
Ordering code
Description:
Basic devices
SECUTEST BASE
M7050-V001
Schuko variant (test socket and mains plug), selectable user interface language (default setting: German), protective conductor test current: 200 mA, calibration certificate in D/GB/F, printed condensed operating instructions in German.
SECUTEST PRO
M7050-V003
Same design as M7050-V002, additionally with touch screen, voltage measuring inputs, 2nd test probe and Datasync database.
Model
Ordering coder
Description
Bundles
SECUTEST BASE START SET
M7050-V901
Same as SECUTEST BASE (M7050-V001) plus additional accessories see datasheet.
SECUTEST PRO PROFI SET
M7050-V903
Same as SECUTEST PRO (M7050-V003) plus additional accessories see datasheet.
SECUTEST Meisterpaket DB+
M7050-V912
Same as SECUTEST BASE10 and accessories: DB+, SORTIMO L-BOXX, Foam SORTIMO L-BOXX Secutest4, EL1, Barcodereader