ME-Probe LF Paar - LF Probe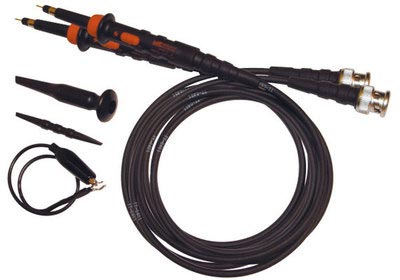 close
Please fill in all fields.
Versatile and low cost.
These versatile standard probes can be used with classic desktop oscilloscopes/DSOs as well as USB scopes with BNC connectors. They are modular, the accessories in the picture are incuded. Try and test the robust high quality at a low price!
Standard probes with BNC. Ideal solution for classic oscilloscopes from various suppliers or USB scopes with BNC.
High quality at a low price. Robust and reliable.
1:1/1:10 passive modular probe with accessories.
Bandwidth LF: 15/150 MHz, 47/15.5 pF, 1/10 MOhm.
Bandwidth HF: 30/300 MHz, 47/13.5 pF, 1.2 m cable.
600 Vp CAT I.
For example for use with the oscilloscopes MEphisto Scope, PenScope, PocketScope, M520 series, Cleverscope, PicoScopes USB PC oscilloscopes and others.
Model overview
Related Products
€ 64,26