Rohde & Schwarz NGP800 Series "Quadcore/Dual" Power Supplies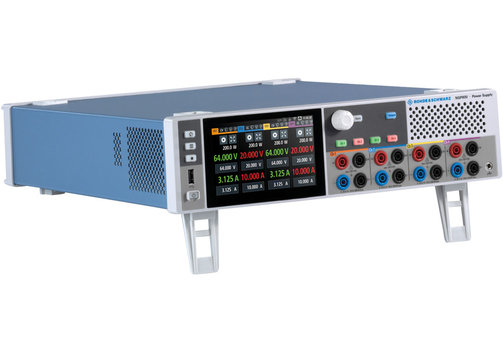 close
Please fill in all fields.
Benefits of the Rohde & Schwarz NGP800 DC-Power Supply Series
2 or 4 isolated channels, up to 400 or 800 W total, 200 W max. per channel.
Remote sense terminals.
Touch screen operation.
Rohde & Schwarz NGP800 Series "Quadcore" Power Supplies
Models R&S NGP802, NGP804, NGP814, NGP822, NGP824
The Rohde & Schwarz NGP800 series are DC power supplies with 400 W or 800 W total power and 200 W max. power per channel. The two or four outputs can each supply up to 32 or 64 V and up to 10 or 20 A. The channels are galvanically isolated and can be wired in series or parallel for up to 250 V or 80 A. The outputs can easily be synchronized. Waveform tests and logging data for in-depth analysis is supported. All NGP800 power supplies include touch-screen operation, remote sense terminals, USB and a LAN interface.
2- or 4-channel power supplies: 2 or 4 power supplies in a single instrument.
Max. output power 400 or 800 W (max. 200 W per channel).
Max. voltage per channel 32 V or 64 V.
Max. current per channel 10 A or 20 A.
Up to 250 V or 80 A in series or parallel operation.
Remote sense terminals.
Variety of functions such as ramp, output delay, arbitrary function, built-in measurements, data logging.
Protection functions overcurrent protection (OCP, electronic fuse), overvoltage protection (OVP), overpower protection (OPP).
Large touch display.
Model Overview
Model
R&S NGP802
R&S NGP804
R&S NGP814
R&S NGP822
R&S NGP824
Channels
2
4
4
2
4
Max. total power
400 W
800 W
800 W
400 W
800 W
Max. power per channel
200 W
Max. output current per channel
20 A
20 A
20 A (channel 1, 2)
10 A (channel 3, 4)
10 A
10 A
Max. output voltage per channel
0...32 V
0...32 V
0...32 V (channel 1, 2)
0...64 V (channel 3, 4)
0...64 V
0...64 V
Load recovery time
<400 µs (meas., 50...100% load change to within 0.2% of rated voltage
Display
5"/12.7 cm 800 pixels x 480 pixels WVGA Touch-TFT
Interfaces
Standard USB-TMC, USB-CDC (virtual COM port), LAN, optional WLAN (NGP-K102), optional GPIB/IEEE488 (NGP-B105)
Dimensions (mm)
362 x 100 x 451
7.5 kg
8.0 kg
8.0 kg
7.5 kg
8.0 kg
Included: Base unit R&S NGP 802, 804, 814, 822, or 824, power cord set, quick start guide.
Bundles
Model
Description
NGP824-COMB
NGP824 complete package B
Package, contains serialized product and options:
NGP824 4-channel power supply, 64 V/10 A
NGP-K103 digital trigger I/O
NGP-K106 analog input
NGP824-COMA
NGP824 complete package A
Package, contains serialized product and options:
NGP824 4-channel power supply, 64 V/10 A
NGP-K102 wireless LAN remote control
NGP-K103 digital trigger I/O
NGP-K106 analog input