PeakTech P1200 Series 2- and 4-Channel Tablet Oscilloscope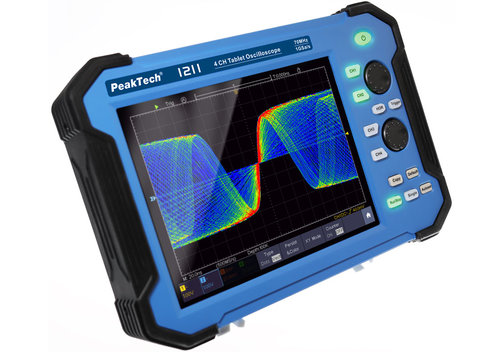 close
Please fill in all fields.
Benefits of the PeakTech Tablet Oscilloscopes P1206, P1207, P1211, P1212
Easy-to-use, portable and with touchscreen, for mobile use.
2 or 4 channels and bandwidth up to 120 MHz.
Autoset and automatic measurement functions.
PeakTech P1200 Series 2- and 4-Channel Tablet Oscilloscopes
Models PeakTech P1206, P1207, P1211, P1212 up to 120 MHz
The PeakTech P1200 series are portable 2- and 4-channel tablet oscilloscopes with a bandwidth up to 70, 100, or 120 MHz. The devices have a touchscreen, USB and Ethernet/LAN interface. They are easy to use especially in mobile applications due to their autoset function and automatic measurement modes.
Portable battery powered tablet oscilloscopes.
2 or 4 channels.
Bandwidth 70 MHz, 100 MHz, or 120 MHz.
Max. sample rate 1 GS/s.
Easy-to-use with autoset function.
Recording length of max. 40,000,000 points.
Automatic measurement modes, XY mode and FFT function.
Touchscreen.
Interfaces: USB and Ethernet/LAN.
Model Overview
Model
P1206
P1207
P1211
P1212
Channels
2
2
4
4
Bandwidth
70 MHz
120 MHz
70 MHz
100 MHz
Sample rate
1 GS/s (1 channel), 500 MS/s (2 channels)
1 GS/s (1 channel), 500 MS/s (2 channels), 250 MS/s (4 channels)
Memory depth
40,000,000 points
Vertical resolution
8 bit
Triggers
Edge, video, pulse, rise, runt, window, timeout, nth edge, logic, SPI, I2C, RS232
Additional features
FFT, XY mode, integrated multimeter: 4½ digits/max. 19999 count, continuity, diode, capacity 2 nF...20 mF, voltage AC/DC 20 mV...200 V, current AC/DC 10 A, resistance 200 Ω...100 MΩ
FFT, XY mode
Interfaces
USB, Ethernet/LAN
Display
8"/20.2 cm 800x600 pixel TFT touchscreen
Power supply
Li-Po 8000 mAh (operating time approx. 5 h), power adaptor
Dimensions (mm)
270 x 191 x 49; 1.7 kg
Safety
EN61010-1; CAT II 400 V
Included: Tablet oscilloscope P 1206, 1207, 1211, or 1212, power chord and charging adaptor, 2 or 4 probes, power adaptor, stand, user manual, CD with Windows software; models with multimeter: Test leads.