PeakTech P2235 AC Power Source/DC Power Supply, 1000W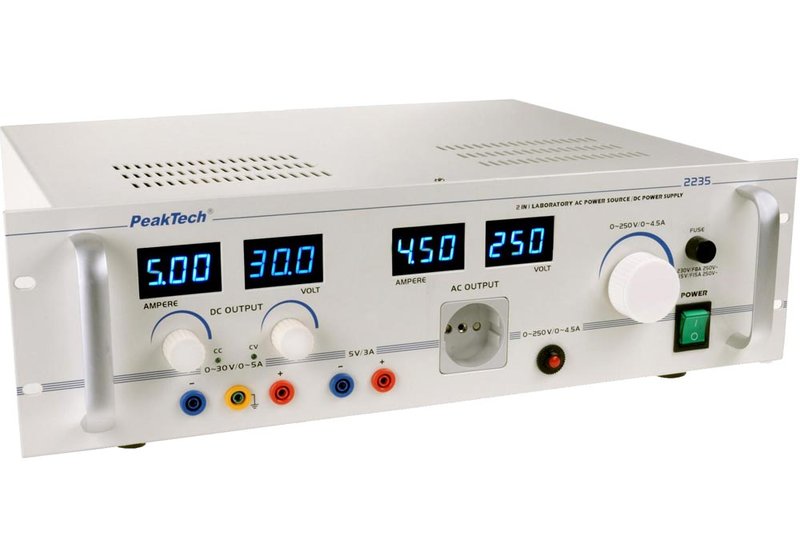 close
Please fill in all fields.
Benefits of the P2235 Isolating Transformer with Integrated DC Power Supply
2 ways of adjustable outputs.
Overload protection.
3-digits LED.
PeakTech P2235 AC Power Source/DC Power Supply, 1000W
The PeakTech P2235 is a 2-in-1 laboratory isolating transformer with an integrated DC power supply. The device has a dual adjustable DC or AC output, which can also be used for constant voltage or current. The output voltage or the output current can be read exactly on two separate 3-digit LED displays. The device is protected against damage by overload and short circuit by reliable surge protection and can be built into a 19"-rack or used as a table device ("stand-alone"). The PeakTech was designed with a view to the high security requirements for use in research and science as well as for training and industry.
3-digit 13 mm LED-display for voltage and current.
Input- and output voltage fused.
4 mm safety jacks.
Operation voltage: 115 VAC, 60 Hz to 230 VAC, 50 Hz selectable.
Safety: EN 61010-1.
Model Overview
Modell
P2235
AC power source
Max. output power
1000 W
Max. output current
4.5 AAC
Output voltage
0...250 VAC
Fuse
Input: 230 V/50 Hz: 8 A/250 V; 115 V/60 Hz: 15 A/250 V; output: 5 A auto cut-off
DC power supply
Output voltage
0...30 VDC; 5 V/3 A fixed
Output current
0...5 ADC
Residual ripple (U/I)
<35 mVRMS
Display
3-digit blue LED-display.
Dimensions (mm)
482 x 140 x 430; 19"/3 U; 24 kg
Included: P 2235, power cord, fuse and user manual