Red-FTV Isolation Amplifier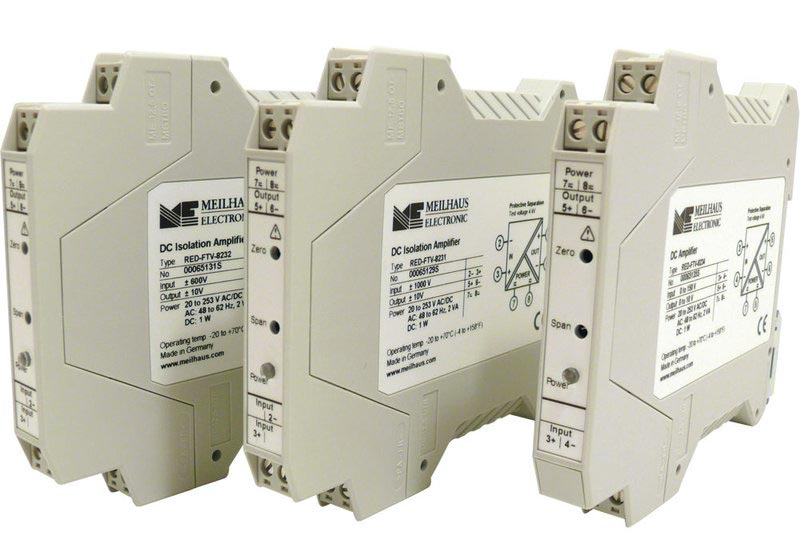 Red-FTV obsolete. Fully compatible replacement: ▸Drago DK8000.
Benefits
Rugged, low-cost industrial modules.
Reliable galvanic isolation.
DIN-rail mountable.
3-way Isolation Amplifier
The 3-way isolation amplifier is used for electrical isolation and conversion of current and voltage signals. The 3-way isolation guarantees reliable decoupling of the sensor circuit from the processing circuit and prevents linked measurement circuits from influencing each other. The protective separation with high isolation level provides protection for personnel and downstream devices against impermissibly high voltage. The input signal is modulated and then electrically decoupled using a transformer. The isolated signal is then made available at the output, demodulated, filtered and amplified.
3-way isolation amplifier.
Input/output ranges see table below.
Working voltage (basic insulation): 1000 V AC/DC for overvoltage category II and contamination class 2 acc. to EN 61010 part 1.
Test voltage 4 kV.
Power supply 20...253 V AC/DC, AC 48...62 Hz, approx. 2 VA, DC approx. 1.0 W.
Construction 12.5 mm housing, protection type: IP 20.
Pluggable screw connection solid/stranded 0.2 to 2.5 mm2, AWG 24 to 12 tightening torque 0.5 to 0.6 Nm. Weigth approx. 100 g.
Maximal transmission frequency 10 kHz.
Galvanic isolation.
Model Overview
Model
Code
Input
Output
Range
Range
Red-FTV-
8145
±40 V
±10 V
8231
±1000 V
±10 V
8232
±600 V
±10 V
8233
±350 V
±10 V
8234
±150 V
±10 V
Other combinations on request!
Included: Module, instructions for use.