Red-UV Measurement Amplifier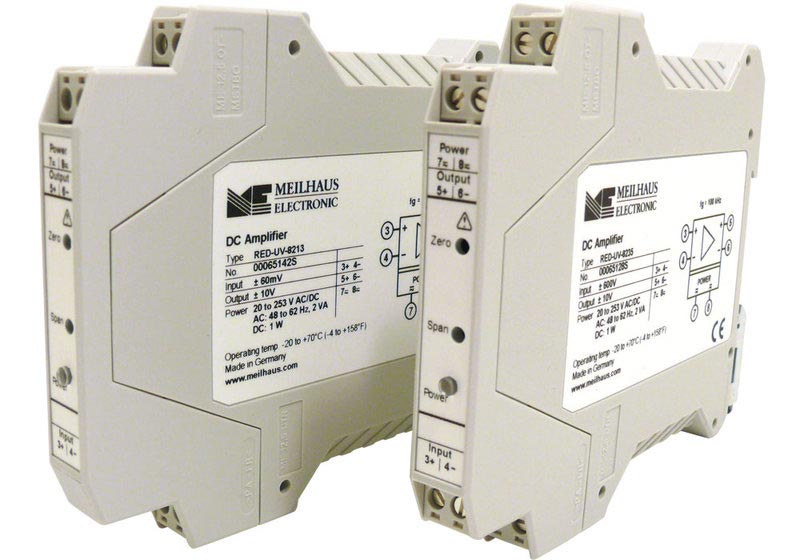 Red-UV obsolete. Fully compatible replacement: ▸Drago DK8000.
Benefits
Measurement amplifier with 2-way isolation.
Ideal for current measurement with ME-5200 series DAQ boards.
Rugged, compact, DIN-rail mountable modules.
Measuring Amplifier for Conversion of Current and Voltage Signals
The measuring amplifier is used for conversion of current and voltage signals.
Measuring amplifier.
Two combinations of input/output ranges available: ±60 V/±10 V and ±600 V/±10 V.
2-way-isolation.
Cut-off frequency 100 kHz.
Test voltage 4 kV.
Power supply 20...253 V AC/DC, AC 48...62 Hz, approx. 2 VA, DC approx. 1.0 W.
Construction 12.5 mm housing, protection type: IP 20.
Pluggable screw connection solid/stranded 0.2 to 2.5 mm2, AWG 24 to 12 tightening torque 0.5 to 0.6 Nm. Weigth approx. 100 g.
Applications, examples: For current measurement with ME-52xx with Shunt (Red-UV-8213) or for voltage measurement with ME-52xx (Red-UV-8235).
Model Overview
Model
Input
Output
Range
Range
Red-UV-8213
±60 mV
±10 V
Red-UV-8235
±600 V
±10 V
Other combinations on request!
Included: Module, instructions for use.