RedLab WEB TC Ethernet/LAN Thermocouple Measurement Box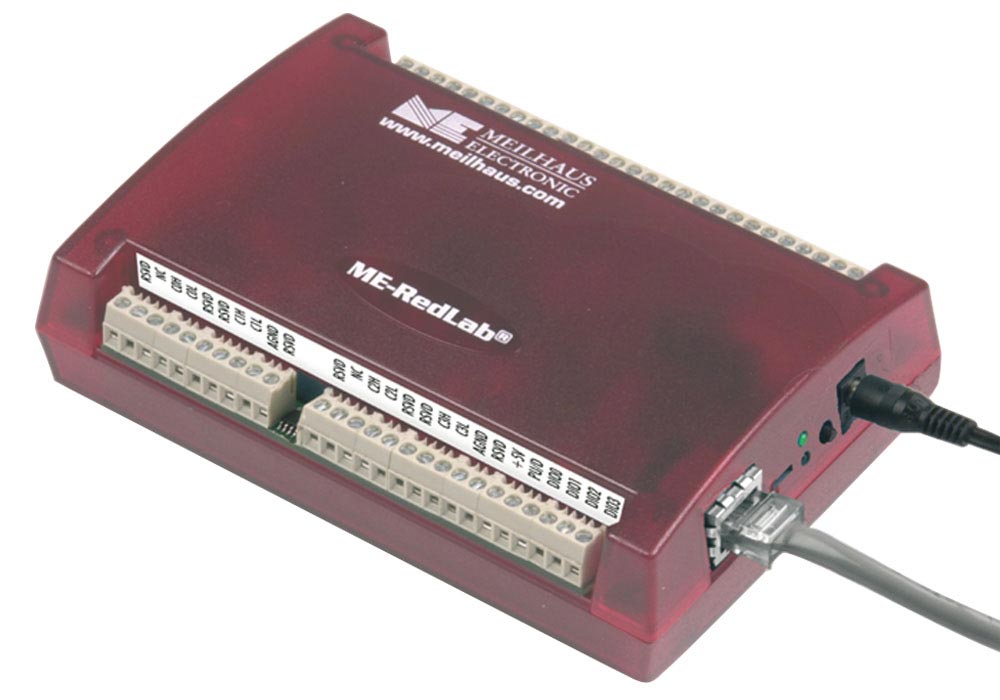 EOL/obsolete, not available anymore
Benefits
Direct Connection of Thermocouples via Ethernet/LAN.
Integrated Signal-Conditioning, CJC, Linearization.
Also Available as Bundle "RedPack" with Software ProfiLab-Expert.
Thermocouple Measurement with Ethernet
With RedLab TC you can connect your thermocouple sensors to a PC via Ethernet/LAN. The RedLab TC supports thermocouples of type J, K, T, E, R, S, B, N.
8 independent, differential input channels for temperature measurement.
Supports thermocouples of type J, K, T, E, R, S, B, N.
Linearisation, cold junction compensation/CJC and conversion to °C or °F in the RedLab modul.
Built-in temperature sensor for cold junction compensation (CJC).
8 additional digital-I/O lines.
Datenübertragung per 10Base-T Ethernet/LAN Ethernet/LAN.
Model Overview
| | | | |
| --- | --- | --- | --- |
| Model | Supported sensors | USB | WEB* |
| ▸RedLab WEB TC | 8 inputs for thermocouples (J, K, T, E, R, S, B, N) | - | yes |
| ▸RedLab WEB TEMP | 8 inputs for thermocouploes (type J, K, T, E, R, S, B, N), RTDs (2-, 3-, 4-wire), thermistors, semiconductor temperature sensors | - | yes |
* 10Base-T ethernet/LAN.
All RedLab modules available as...
option "-modul": Module only or
option "-redpack": As bundle "RedPack" with the software ▸ProfiLab-Expert.
Included: RedLab module, LAN cable, power supply, basic-software (download). Bundle "RedPack" with additional software ProfiLab-Expert.
Basic-Software:
TracerDAQ (strip chart recorder and data logger).
Universal Library (programming language support for Windows).
InstaCAL utility (for easy installation, calibration and test).
Driver for LabVIEW.
MATLAB Data Acquisition Toolbox supports InstaCal version from 5.89 (analog inputs and outputs (no streaming) are supported. Digital inputs/outputs as well as triggered acquisition not supported).
Support for Visual Studio/Visual Studio .NET, examples for Visual C++, Visual C#, Visual Basic, and Visual Basic .NET.
Supported operating systems: Windows 10/8/7/Vista/XP, 32 and 64 bit.
Optional: ▸TracerDAQ Pro, ▸ProfiLab-Expert.