RedLab WebDAQ-316 Ethernet Thermocouple Temperature Data Logger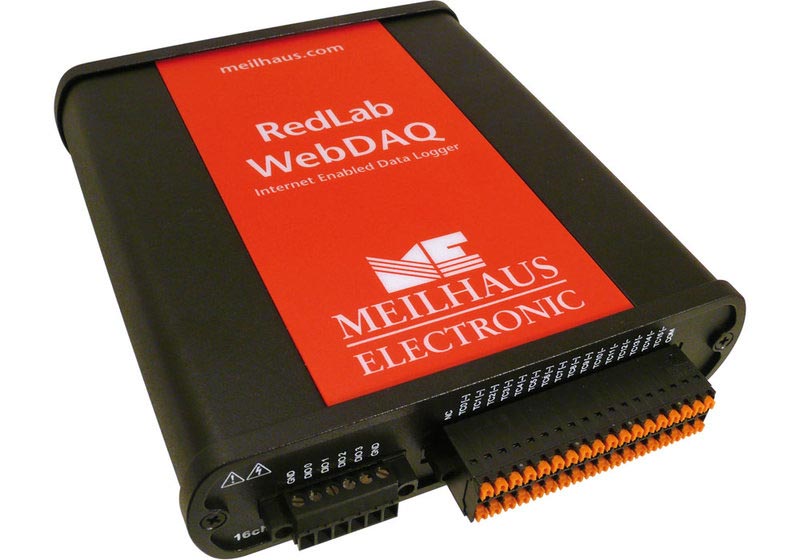 close
Please fill in all fields.
Benefits of the RedLab WebDAQ-316 Web-Enabled and IOT/IIOT Temperature Data Logger
Web enabled temperature data logger.
Direct connection of thermocouples, no additional signal-conditioning required.
Remote access and control with standard web-browser.
RedLab WebDAQ-316 Ethernet Thermocouple Temperature Data Logger
The RedLab WebDAQ-316 is a stand-alone, temperature datalogger for remote monitoring and control of thermocouple data. Use it for applications in IoT, building and process monitoring etc. Housed in a heavy-duty chassis, the RedLab WebDAQ-316 is rugged enough for industrial applications.
16 thermocouple input channels.
Built-in web server allows access from any device with a web browser.
View data in real time or post acquisition.
Virtually unlimited data storage: Internal Flash memory, 2x USB port, SD memory card slot.
Easy, flexible task scheduling.
Four isolated digital I/O for triggers and alarms.
Alarming and notifications with email and SMS messaging.
Export measurement data in binary and UFF formate as well as in .csv formate to Excel and MATLAB.
Interface (Rest API) for access via Python, JavaScript, LabVIEW, C# and Visual Basic incl. documentation and examples.
Language support: English, German, Chinese.
Note: The WebDAQ firmware uses open source software components. Refer to WebDAQ Licences for the licencing information of each component. The open source code is available on request from support@meilhaus.de.
.
Included: RedLab module with integrated web server, external power-supply. Complete user manual included online in the device's web server.