IkaLogic SP209 9-Channel USB PC Logic Analyzers and Protocol Decoders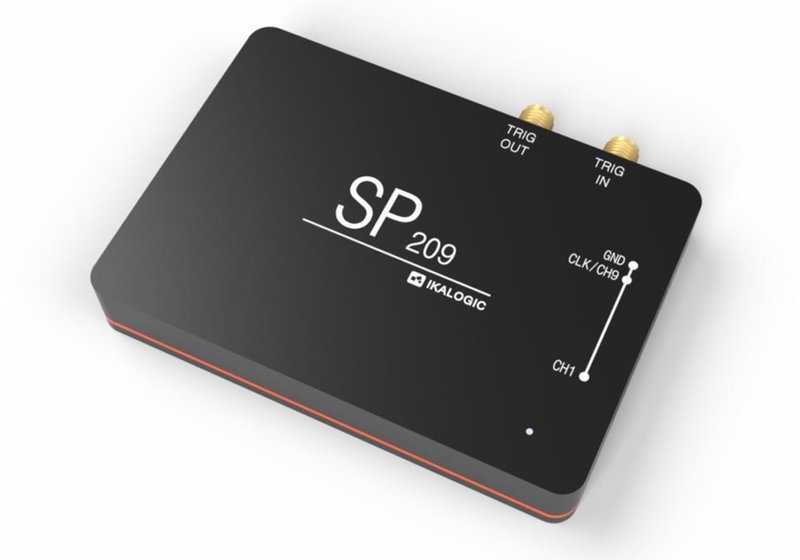 close
Please fill in all fields.
Benefits of the IkaLogic SP209/SP209i 9-Channel Logic-Analyzer
9 logic channels with 200 MS/s max. sampling rate.
Industrial version with receivers for CAN, LIN, RS232, and RS485.
2 SMA ports for precise triggering (in/out).
IkaLogic 9-Channel Logic Analyzers SP209
The IkaLogic SP209 series USB PC logic analyzers and protocol decoders are designed for the in depth analysis of logic signals and protocols with 200 MHz (5 ns) timing resolution. The devices offer 9-channel operation that allows 8 bit parallel data to be captured along with a clock or strobe signal. The SP209 logic analyzers are available in two versions, SP209 (standard) and SP209i (industrial version). Both offer 9 logic inputs, the model SP209i integrates additional industrial receivers for CAN, LIN, RS232, and RS485 interfaces and buses on screw terminal connectors.
USB PC logic analyzers and protocol decoders.
9 logic channels with operating range 0...5 V and adjustable logic levels 1.8 V, 2.5 V, 3.3 V, 5 V.
Schmitt trigger input stages with adjustable thresholds.
200 MHz sampling rate, with all 9 channels used.
External clock option (state mode), up to 50 MHz.
Precise trigger-in and trigger-out signals on SMA ports.
Industrial version with additional receivers for CAN, LIN, RS232, and RS485.
USB 2.0 HighSpeed, powered via USB.
Software ScanaStudio for Windows, Mac OS, and Ubuntu incl./download.
Applications of the IkaLogic SP209 Logic-Analyzer
Embedded systems debugging.
Research and education.
Serial protocols analysis, like I2C, SPI, UART or 1-Wire (non exhaustive list).
Industrial interface and bus analysis: RS232, RS485, CAN, LIN.
ADC diagnostic.
Model Overview
Model
IkaLogic SP209
IkaLogic SP209i
Description
Logic analyzer , standard version
Logic analyzer, industrial version
Logic channel
9
9
Channel charcteristics
Impedance 200 kΩ || 8 pF; 3 threshold circuits; hysteresis 0.62 V (min., at 3.3 V logic level); operating range 0...5 V; adjustable logic levels 1.8 V, 2.5 V, 3.3 V, 5 V (for each threshold); absolute max. ±25 V
Industrial features
-
Logic channels can be multiplexed with dedicated industrial inputs that can be directly connected to: 2x RS232 channels (up to 1.5 MBd), 2x RS485 channels (can be combined to form one full duplex RS422 receiver), 1x CAN channel (compatible with CAN and CAN FD), and 1x LIN channel (incl. a battery input pin for voltage reference)
Timing and measurement
Sample rate max. 200 MS/s (with all 9 channels used), external clock rate max. 50 MHz (state mode); logic inputs digital bandwidth 50 MHz, embedded memory 2 GB (DDR-3 sampling memory is used to buffer samples before streaming to host computer)
-
Digital bandwidth RS232 1.5 Mbps, RS485 50 Mbps, CAN 8 Mbps, LIN 20 kbps
Connectors
Connector for logic probe cable (included), 2x SMA (trigger output, external trigger input)
-
Industrial port: 12 screw terminals for GND, CAN, RS485, RS232, LIN
Power
Via Micro USB female, 5 V ±0.25 V/500 mA
Interface
USB 2.0 HighSpeed
Indicators
3 state power status LED
Dimensions (mm)
Aluminum housing, 60 x 85 x 13, approx. 90 g (standard)/105 g (version "i")
Included: SP 209 or SP 209i, 10 premium-quality leads micro-grabber probes set, 1 m Micro-USB cable, cable comb. Quick start guide/user manual and software via free download.
Software: (Download) ScanaStudio software for Windows 7/8/10, Mac OS 10.9 or later, and Ubuntu 14.04 or later.