TekBox TBTC Series Open TEM Cells for EMC Pre-compliance Testing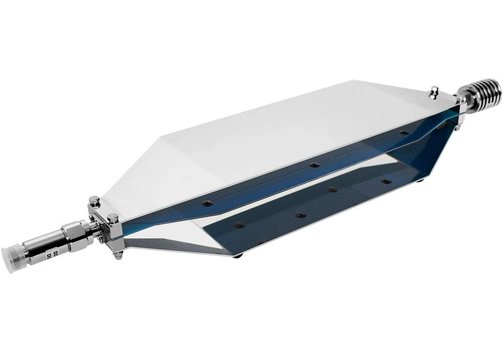 close
Please fill in all fields.
TBTC0, TBTC1, TBTC2, TBTC3 TEM Cells in Various Sizes
A TEM cell (Transverse Electromagnetic Cell) is a stripline device used to test the radiated emissions and immunity of electronic equipment. The TekBox TBTC series TEM cells provide a defined environment for EMC pre-compliance testing and other electromagnetic compatibility measurements. In doing so, the TEM cells accommodate the DUT for measurement and test of radiated emissions or immunity. A unique design feature of the TekBox TEM cells implements resistance perpendicular to the desired propagation direction of the wave. Consequently higher order wave modes and resonances are suppressed.
Model Overview
| | |
| --- | --- |
| Model | Description |
| TBTC0 | TEM cell 28 mm (LxWxH (mm) 390 x 100 x 62); TEM cell connectors N-female; nominal cell impedance 50 Ω; wave impedance 377 Ω; max. RF input power 10 W (limited by supplied 50 Ω termination); input return loss S11 up to 3.15 GHz <-15 dB; transmission loss up to 3 GHz <3 dB, up to 6 GHz <4 dB |
| TBTC1 | TEM cell 50 mm (LxWxH (mm) 390 x 200 x 108); TEM cell connectors: N-female; nominal cell impedance 50 Ω; wave impedance 377 Ω max. RF input power 25 W (limited by supplied 50 Ω termination); input return loss S11 up to 1.2 GHz <-20 dB, up to 2.1 GHz <-17 dB, up to 3 GHz <-14 dB; transmission loss up to 1.4 GHz <1 dB, up to 2.1 GHz <3 dB, up to 3 GHz <6 dB |
| TBTC2 | TEM cell 100 mm (LxWxH (mm) 636 x 300 x 205); TEM cell connectors: N-female; nominal cell impedance 50 Ω; wave impedance 377 Ω; max. RF input power 25 W (limited by supplied 50 Ω termination); input return loss S11 up to 800 MHz <-15 dB, up to 1.5 GHz <-10 dB, up to 3 GHz <-8 dB; transmission loss up to 800 MHz <1 dB, up to 1.15 GHz <3 dB |
| TBTC3 | TEM cell 150 mm (LxWxH (mm) 1038 x 501 x 305); TEM cell connectors: N-female; nominal cell impedance 50 Ω; wave impedance 377 Ω; max. RF input power 25 W (limited by supplied 50 Ω termination); input return loss S11 up to 700  MHz <-16 dB; transmission loss up to 730 MHz <3 dB |