USB-CAN-M Series 1- and 2-Port USB-to-CAN Adaptors with/without Isolation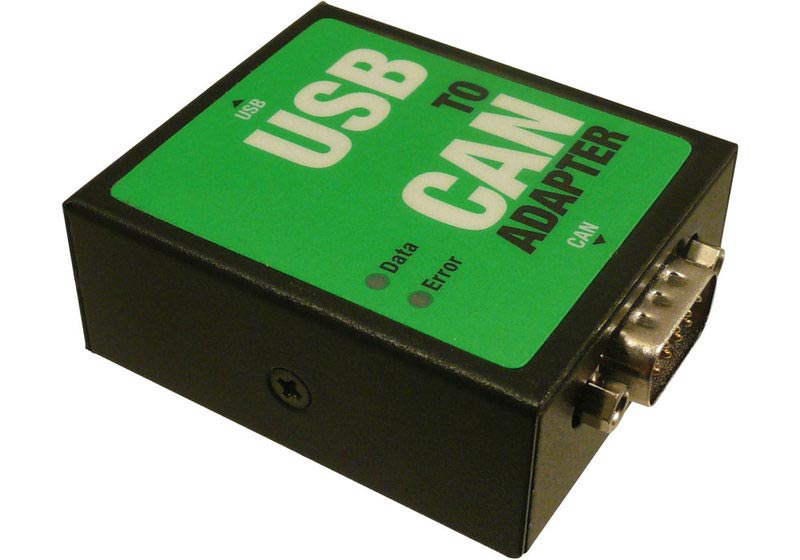 Scaled Prices
taking 1 pc.
taking 5 pc.
close
Please fill in all fields.
Benefits of the USB-CAN-M Series Interface Converter from USB to 1/2 Port CAN Bus
Extremely compact and rugged 1-/2-port USB-to-CAN bus converter.
Model "SI" with 2500  V galvanic isolation on CAN bus.
Versatile driver and utility software for Windows. LabVIEW supported.
USB-CAN-M Series 1- and 2-Port USB-to-CAN Adaptors
The USB-CAN-M, USB-CAN-SI-M, USB-2CAN-M, and USB-2CAN-SI-M are very compact USB to CAN bus converters. The models "SI" have galvanic isolation on the CAN bus up to 2500 V.
Adds one or two CAN bus ports on your computer by connecting to USB 1.1, 2.0 or 3.0 host and hub ports.
One 9-pin D-sub male connector and additional 5-pin terminal block on 2-port models.
Powered by USB port, no external power adapter required.
LEDs indicate initialization and CAN bus status.
Installs as standard Windows COM port, COM port number can be changed to any COM port number.
CAN bus speed up to 1 Mbits.
512 bytes transmit/receive FIFO buffer for high speed data throughput.
Easy Plug&Play installation and CAN bus device connection.
USB CAN adapter can be controlled over serial port using simple ASCII commands.
Versions -SI: 2500 V galvanic isolation on CAN bus.
Design with ARM Cortex-M0 32 bit microcontroller and the USB to UART chip.
Drivers provided for Windows and Linux OS.
Model Overview
USB-CAN-M
USB-CAN-SI-M
USB-2CAN-M
USB-2CAN-SI-M
Ordering code
413011
413012
413021
413022
CAN bus ports
1
1
2
2
CAN bus features
Bosch C_CAN module; CAN bus speed CAN 2.0A/2.0B 5 kbps...1 Mbps for transmit and receive; signals: CAN_H, CAN_L, CAN_GND, CAN_V+; CAN bus modes: Standard mode (normal operation on CAN bus), listen mode (passive receiving of CAN frames), echo mode (transmitter also receives sent frames - for testing purposes); LED for CAN bus data activity, CAN bus error; protection: ±16 kV ESD protection for all signals
-
2500 V galvanic isolation on CAN bus
-
2500 V galvanic isolation on CAN bus
CAN bus connector
9-pin D-sub
USB 2.0 FullSpeed, USB 1.1 compliant; type B connectors
Power
USB-powered, max. 250 mA/5 VDC
USB-powered, max. 300 mA/5 VDC
Dimensions (mm)
SECC sheet metal (1 mm), 61 x 50 x 23; 100 g
SECC sheet metal (1 mm), 115 x 85 x 28; 310 g
Environmental
Temperature 0...60°C (operating), -20...75°C (storage), 5...95% relative humidity, non-condensing
Safety Approvals
CE, FC
Included: Converter box, 1x USB A/B cable (90 cm).
Software: Via download;
API library supports C/C++, C#, VB.NET, VB6, Python and LabVIEW.
Utility: On-board firmware update utility.
OS driver support for Windows XP to Windows 10; Windows Server 2003 to 2012 R2
Monitoring Tools supported by CANHacker, Titan CAN Test.