USB-COMi-PRO Series USB to Serial RS232, RS422, RS485 Adaptors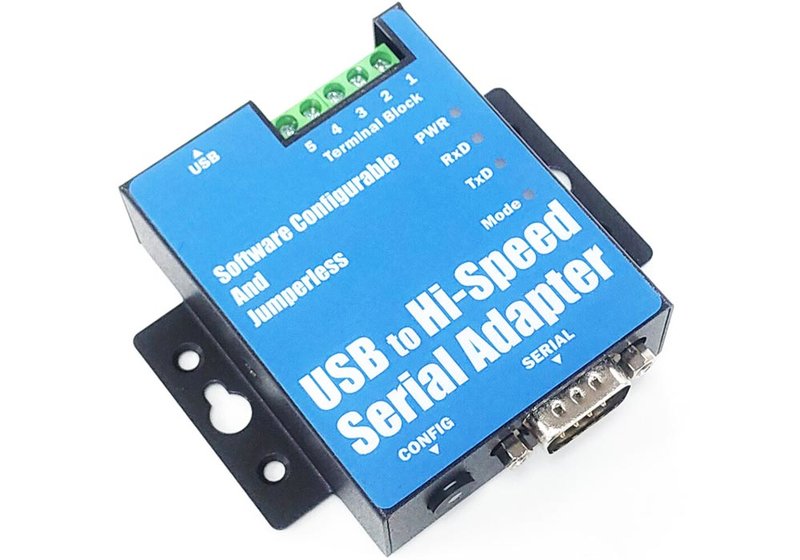 close
Please fill in all fields.
Benefits of the USB-COMi-PRO SeriesInterface Converters USB 2.0 to RS232, RS422, RS485
Adaptors from USB 2.0 FullSpeed to serial RS232, RS422, RS485.
All configuration settings via software, no jumpers/switches.
Flexible communication standards and connectors D-sub/terminal.
USB-COMi-PRO Series USB to Serial RS232, RS422, RS485 Adaptors
The USB-COMi-PRO series are completely jumperless and free of DIP switches, all configuration is done by software. Just press the button and use the configuration program. Serial ports on USB allow further use of existing devices, even when the computer doesn't offer serial ports. The USB-COMi-PRO series is extremely flexible in offered communication standards: Besides the classical RS232 and RS422 it offers three variants of the RS485 operation. The often required termination and polarization (BIAS) is also provided by built-in hardware, and it is controlled by the same configuration software. The driver allows to configure the serial ports for bitrates of up to 3 Mbit/s. In RS232 mode the bitrate is limited to 1 Mbit/s.
Adds one or two high speed RS232, RS422, RS485 serial port(s) via USB connection.
Serial operation mode and resistors can be easily changed by software.
128 Byte receive and 384 Byte transmit buffer for high speed data throughput.
Requires no IRQ, DMA, I/O port.
RS232 max bitrates up to 1 Mbps.
RS422, RS485 max bitrates up to 3 Mbps.
One or two 9-pin D-sub male connectors and one or two 5-pin terminal blocks.
Auto transmit buffer control for 2-wire RS485 half-duplex operation.
Termination resistors installed on-board.
RS232 data signals: DCD, RxD, TxD, DTR, GND, DSR, RTS, CTS, RI.
RS422 data signals: Tx-, Tx+, Rx+, Rx-, GND, RTS-, RTS+, CTS+, CTS-.

RS485 data signals: Tx-, Tx+, Rx+, Rx- (4-wire), and Data-, Data+ (2-wire).
Monitor LEDs of TxD, RxD, mode indicating port status.
Easy operating mode configuration and setting.
Virtual COM port drivers provided for Windows 10, 8.1, 8, 7, Vista, 2012, 2008, 2003, XP.
Model Overview
Model
USB-COMi-PRO
USB-2COMi-PRO
Ordering code
343011
343021
Serial ports
1
2
Serial connectors
1x 9-pin D-sub male and 1x 5-pin terminal block
2x 9-pin D-sub male and 2x 5-pin terminal block
Serial features
RS232, RS422, RS485 configured by software
RS232: Up to 1 Mbps; signals DCD, RxD, TxD, DTR, GND, DSR, RTS, CTS, RI
RS422, RS485: Up to 3 Mbps; RS422 signals TxD-, TxD+, RxD+, RxD-, GND, RTS-, RTS+, CTS+, CTS-; RS485 signals 4-wire TxD-, TxD+, RxD+, RxD-, GND; RS485 signals 2-wire Data-, Data+, GND; RS485 termination and polarization configured by software
Serial communication parameters: Data bits 7, 8; parity none, even, odd, mark, space; stop bit 1, 2; flow control hardware (RTS, CTS), XOn/XOff
Protection
15 kV ESD protection for all signals
USB ports
1
1
USB features
USB 2.0 FullSpeed, USB 1.1 compliant; 12 Mbps; connector USB type-B; 128 Byte transmit and 384 Byte receive FIFO
Power
USB-powered
Housing
SECC metal chassis with DIN rail bracket
Environmental
Temperature 0...55°C (operating), -20...75°C (storage), 5...95% relative humidity (operating), non-condensing
Safety approvals
CE, FCC