Micsig ACP1000 Current Clamp Probe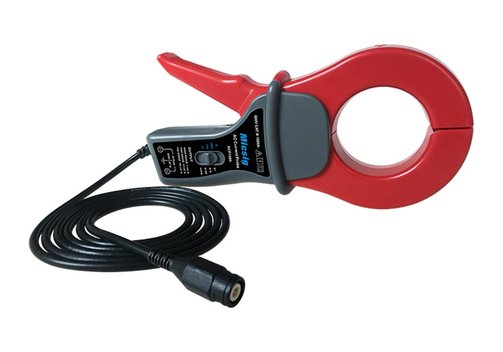 close
Please fill in all fields.
Micsig ACP1000 Current Clamp Probe
The Micsig ACP 1000 is a current clamp probe for the Micsig tablet/portable oscilloscopes of the ATO, STO, and TO series as well as other oscilloscopes with BNC. With an additional optional BNC-to-banana adaptor (not included) the probe can also be used with multimeters.
Model Overview
| | |
| --- | --- |
| Model | ACP1000 |
| Rated output | 100 mV/A, 10 mV/A, 1 mV/A |
| Frequency | 10...100 kHz |
| Rated burden | ≥100 kΩ |
| Accuracy grade | 3% ±10 mV/2% ±5 mV/1% ±1 mV |
| Test current range | 0.1...1000 A |
| Operating frequency | 10 Hz...100 kHz |
| Max. primary current | 2000 A (2 s) |
| Output signal | mV/A |
| Highes precision | 1% |
| Operating temperature | -15...+75°C |
| Safety class | CAT III 600 V |
| Max. conductor size | 52 mm |
| Dimensions (mm) | 111 x 216 x 45 |
| Output cable | 1.5 m BNC insulated coaxial output cable can connect directly to an oscilloscope. Can also be used with multimeters with optional BNC/banana adaptor |

starting € 690,20
starting € 529,55