Micsig ATO1000 Series Automotive Tablet Oscilloscope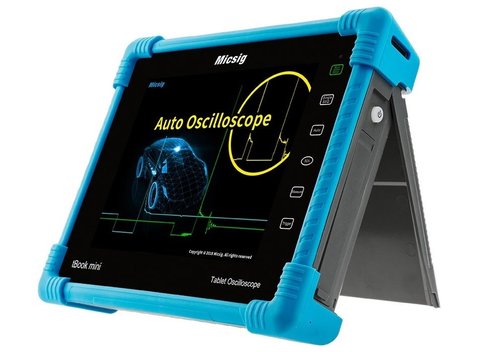 close
Please fill in all fields.
Benefits of the Micsig ATO1000 Series Tablet Automotive Oscilloscops
Compact, portable automotive tablet oscilloscope.
Various automatic automotive diagnostic functions.
Software app for oscilloscope remote control.
Micsig ATO1000 Series Automotive Tablet Oscilloscope
Modelle ATO1102, ATO1104
The Micsig ATO1000 series are portable automotive tablet oscilloscopes. They offer various automatic automotive diagnostic functions, such as test of ignition, sensors, actuators, networks, pressure and combination tests. USB, Ethernet/LAN and Wifi are supported. A software app helps to remote control the oscilloscope easily.
Tablet oscilloscope for automotive applications.
2 or 4 channels.
100 MHz bandwidth.
1 GS/s real time sample rate.
28 Mpts memory depth.
8"/20.3 cm full touch screen.
Built-in Lithium battery.
Integrated automotive diagnostics software.
Interfaces: Ethernet/LAN, WiFi, USB 2.0 Host & Device; HDMI.
Software app for oscilloscope remote control.
Built-in 8G storage for big waveform data.
Model Overview
Model
ATO1102
ATO1104
Channels
2
4
Bandwidth
100 MHz
100 MHz
Real time sampling rate
1 GS/s (single channel)
Memory depth
28 Mpts (single channel)
Resolution
8 bit
Supported tests
Charging circuit, starter circuit, sensor, actuator, ignition test, communication test (incl. CAN, LIN, FlexRay, K, etc.), pressure test (cylinder pressure, intake and exhaust pressure, fuel pressure, etc.)
Display
8"/20.3 cm LCD, 800x600 resolution multi-point capacitive touch screen; HDMI port
Interfaces
USB 2.0 Host & Device, Ethernet/LAN, Wifi
Power supply
Power adaptor; Lithium Ion battery 7.4 V/7500 mAh
Dimensions (mm)
250 x 200 x 55
Included: Micsig ATO 1102 or 1104, power adaptor and cable, BNC caps, 2x passive probe, built-in battery, carry strap belt, protective film, 2/4 alligator clips, 2/4 BNC-to-banana, 2/4 flexible pencil. Incl. ser. decoding.