980PB PROFIBUS Digital-I/O Modules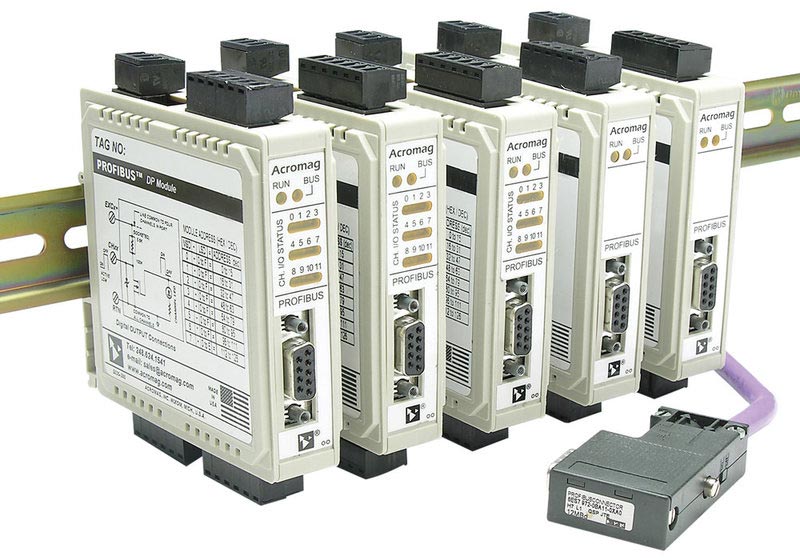 close
Please fill in all fields.
Benefits of the BusWorks 980PB Series DIN-rail Mountable Digital-I/O Modules for PROFIBUS
Rugged, industrial I/O modules for PROFIBUS.
Discrete or port digital-I/O.
DIN-rail mountable modules.
980PB PROFIBUS BusWorks Digital-I/O Modules
Models 981PB, 982PB, 983PB
The Acromag 980PB series are digital-I/O modules with RS485-based PROFIBUS to control switching processes or acquire (switching) statuses. Depending on the model they offer 12 discrete inputs or outputs.
12 discrete digital inputs or outputs.
DIN-rail mountable modules.
Supply power: 12...36 V DC.
PROFIBUS:
Isolated, 3-wire RS485 multidrop, half-duplex, asynchronous.
Protocol: PROFIBUS DP (master/slave).
Baudrates up to 12 Mbit/s depenging on bus distance, automatic baudrate detection.
Optional compact DIN-rail mountable power supplies.
Model Overview
Model
Inputs
Outputs
981PB-2012
12 discrete/digital, active-low, 0...35 V
-
982PB-2012
-
12 discrete/digital, sink, open drain
983PB-2012
12 discrete/digital inputs/outputs, see 981/982PB
Included: Module, instructions for use.
Model Overview - Other Module Series
| | |
| --- | --- |
| Series | Features |
| ▸960PB | BusWorks PROFIBUS remote-I/O modules with single-ended or differential analog inputs for DC-current or voltages or thermocouple inputs or RTD inputs |
| ▸970PB | BusWorks PROFIBUS remote-I/O modules with analog outputs for DC current or voltage |
| ▸980PB | BusWorks PROFIBUS remote-I/O modules with discrete digital inputs/outputs |