ACKSYS AirBox Industrial Dual WiFi Access Point, Dual Band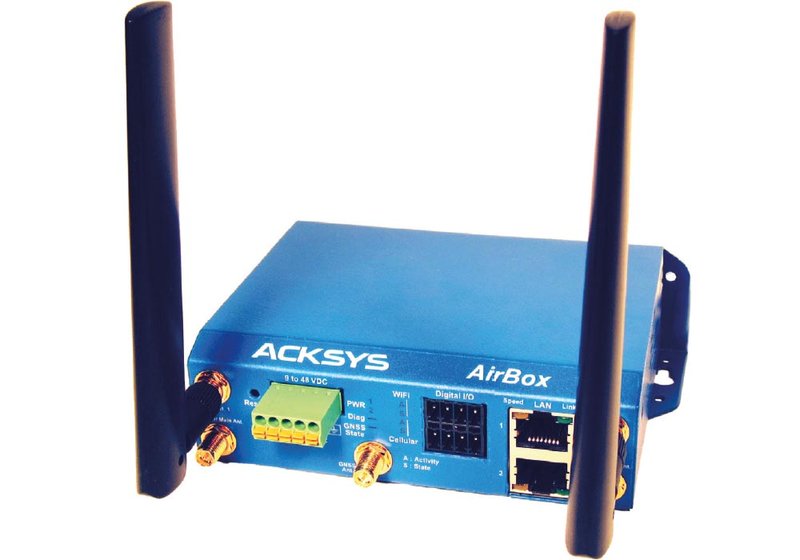 close
Please fill in all fields.
Benefits
WiFi access point, client or repeater modes.
Advanced security functions.
Two redundant wide range power supply inputs.
ACKSYS AirBox Industrial Dual WiFi Access Point, Dual Band.
The ACKSYS AirBox is available in a single or dual WiFi radio version (11n and 11ac). The AirBox fits directly into the era of Industry 4.0 by offering dual band (2.4/5 GHz) connectivity to objects (IIoT, PLCs, tablets, etc.) and strengthening the communication between machines (M2M). AirBox supports up to 80 clients connected simultaneously (at 2 Mbps) in AP mode and can be integrated in electrical cabinets as in tight spaces (antenna fitted externally). The single radio model (WiFi 11n) can be used in client mode to remotely connect any Ethernet equipment or PLCs as well as mobile devices (trolleys, AGVs) to the factory wireless infrastructure. AirBox advantageously leverages MIMO technology to strengthen the radio link and features a high-performance roaming algorithm (<30 ms) to ensure seamless communication in motion, even in environments with very high density of AP. AirBox embedded intelligence simplifies the network design and does not require any wireless LAN controller. Administration is centralized via ACKSYS WaveManager software. Network is secured due to AirBox high level of security (Firewall, VPN, 802.1X, etc.). Two pairs of digital I/O are controllable with the SNMP protocol to operate remote equipment or read the logic state of a signal.
WiFi access point, client or repeater modes.
Mesh function to wirelessly interconnect access points.
Optional 4G router and positioning (GNSS).
Advanced security (Firewall, VPN, radius).
High availability: 2 redundant Ethernet ports, redundant wide range power supply input (+9...+48 VDC).
Compact case, wall or DIN Rail mounting.
Centralized administration and configurations management.
2 isolated digital inputs and 2 isolated digital outputs.
Model Overview
Model
AirBox/10
AirBox/12
AirBox/14
WiFi access point
yes
yes
yes
Client, repeater (WDS)
yes
yes
yes
MESH point
802.11n
802.11n + 802.11ac
802.11n
Ethernet
RJ45 Ethernet interface 10/100/1000
RJ45 Ethernet interface 10/100/1000
RJ45 Ethernet interface 10/100/1000
LTE/GPS router
-
-
yes (EMEA, Korea, Thailand, India, other frequencies: Consult us)
Power supply
+9...+48 VDC, redundant, 5-point Phoenix connector (power supply is optional accessory); consumption between 5.7 and 14.4 W
Dimensions (mm)
141 x 99 x 35; approx. 318/348/347 g
Environment
IP30; operating temperature: -20...+60°C , storage -40...+85°C, humidity 0...99% (non-condensing)