ACKSYS AirWan Industrial Cellular Router and Wi-Fi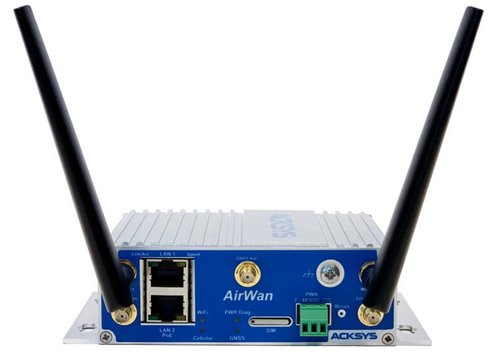 close
Please fill in all fields.
Benefits of the AirWan 2G, 3G, 4G Router and 802.11n Wi-Fi
2G, 3G, 4G cellular router, Wi-Fi access point, client or repeater.
Mesh function.
Rugged design and wide range power supply input.
ACKSYS AirWan Industrial Cellular Router and Wi-Fi
The ACKSYS AirWan is a cellular router (2G, 3G, 4G, LTE) equipped with a dual-band Wi-Fi interface (2.4/5 GHz), a GNSS interface (GPS, Galileo, GLONASS, Beidou), 1 Giga Ethernet and 1 Fast Ethernet ports. The compact and rugged modules are designed for industrial applications such as in industry 4.0 and mobile applications in buses, vehicles etc.
2G, 3G, 4G cellular router with auto-fallback.
Wi-Fi access point, client or repeater modes.
Mesh function to wirelessly interconnect access points.
Advanced security (VPN, firewall, radius, etc.).
Automatic cellular - Wi-Fi switching.
2 Ethernet ports.
Wide range power supply input (+7...+48 VDC), PoE+.
Compact case, wall or DIN-rail mounting.
Centralized administration and configurations management.
Model Overview
Model
AirWan/17
Ethernet interface
1-port Gigabit Ethernet 10/100/1000 and 1 port Fast Ethernet 10/100 auto-sensing, Base TX, auto MDI/MDIX, RJ45 Ethernet interface
Cellular interfaces and navigation
1 LTE radio category 4, 3GPP E-UTRA release 11, MIMO DL with Rx diversity; single SIM; LTE, UMTS/HSPA+, GSM/GPRS/EDGE (worldwide); multi-constellation GNSS (GPS, Galileo, GLONASS, Beidou), requires an active antenna
Cellular radio data rate
150 Mbps (down) and 50 Mbps (up) maximum radio data rate
Wi-Fi interface
802.11n (MIMO 2T2R), 300 Mbps, 2.4/5 GHz, ANI (Adaptive Noise Immunity)
Wi-Fi radio data rate
802.11a: 6, 9, 12, 18, 24, 36, 48, 54 Mbps;
802.11b/g: 1, 2, 5.5, 6, 9, 11, 12, 18, 24, 36, 48, 54 Mbps;
802.11n: MCS0-7, 2T2R2 streams (6.5 to 300 Mbps)
Radio connectors
Wi-Fi 2x RP-SMA, LTE 2x SMA (female), GNSS 1x SMA (female)
Security
Firewall, DoS, https, MAC filtering, WPA2/WPA3-Personal & Enterprise (IEEE 802.1X/RADIUS), WEP, tunnels L2 (GRE), VPN (OpenVPN), SNMP V3, client isolation in AP mode, WIDS
Wi-Fi modes
AP/access point, client, mesh (IEEE 802.11s), infrastructure, AD-HOC, fast roaming (less than 30 ms), WMM QoS
Power supply
7...48 VDC, 3 point Phoenix connector or PoE 802.3af
Dimensions (mm)
147 x 100 x 41; 382 g
Included: AirWan/17, 2x Wi-Fi antennas (WL-ANT-2458/3- ORPS), 2x cellular antennas (ANT727/2OSM).