B+K Precision MR Series Multi-Range Programmable DC Power Supplies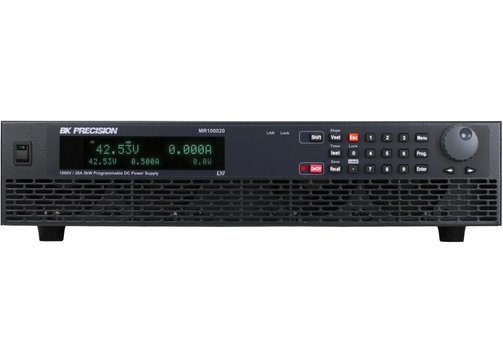 close
Please fill in all fields.
Benefits of the B+K Precision MR Series Power Supplies up to 3 kW or 5 kW
Multi-range programmable DC power supplies up to 1000 V or 120 A.
Remote sensing feature.
Variety of interfaces: USB, RS232, GPIB, Ethernet/LAN/LXI.
B+K Precision MR Series Multi-Range Programmable DC Power Supplies
Models B+K Precision MR3K160120, MR160120, MR25080, MR50040, MR100020
The B+K Precision MR series are 3 or 5 kW multi-ranging, single-output programmable DC power supplies. They offer up to 1000 V or 120 A in a compact 2U form factor and are well suited for both bench use and automated test system applications. The MR series offers multi-range functionality and provides users with added flexibility in the form of additional voltage and current combinations, capable of replacing multiple fixed-range power supplies. The MR series provides a wealth of features, such as a wide range of industry standard interfaces combined with excellent regulation and low noise characteristics.
Programmable DC power supply.
Output up to 1000 V or 120 A.
Multi-ranging operation, capable of replacing multiple fixed range power supplies.
Compact 2U form factor.
Standard USB (USBTMC-compliant), RS232, GPIB, and LXI compliant Ethernet/LAN interfaces.
Galvanically isolated analog control and monitoring interface.
Protection features: OVP (over voltage protection), OCP (over current protection), OPP (over power protection), OTP (over temperature protection), foldback protection mode, and key-lock function.
Adjustable voltage and current slope (rise and fall time).
List mode: 10 user-defined setups with up to 100 programmable steps each.
Built-in SAS function for storage of up to 101 I-V curves with Voc, Isc, Vmp, Imp, parameters and 4096-point table.
Remote sense to compensate for voltage drop.
Master/slave mode operation provides up to 50 kW with 10 units connected in parallel.
Control up to 30 power supplies from one PC.
Soft panel software for remote control, test sequence generation, and data logging included.
cTUVus certification mark fulfills CSA and UL safety standards.
Model Overview
Model
MR3K160120
MR160120
MR25080
MR50040
MR100020
Multi-ranging (autorange)
✓
✓
✓
✓
✓
Max. output voltage
160 V
160 V
250 V
500 V
1000 V
Max. output current
120 A
120 A
80 A
40 A
20 A
Max. output power
3 kW
5 kW
5 kW
5 kW
5 kW
Load regulation
80 mV/180 mA
80 mV/180 mA
120 mV/50 mA
200 mV/40 mA
250 mV/25 mA
Protection
OVP, OCP, OTP, OPP (overvoltage, overcurrent, overtemperature, overpower protection)
Interfaces
USB (TMC/VCP), LAN/Ethernet/LXI, GPIB, RS232, Analog
Included: Multi-range programmable DC power supply MR 3K160120, 160120, 25080, 50040, or 100020, power cord, user manual (download), test report, and certificate of calibration.
Optional accessories: RKPVS rack mount kit, SASPVS SAS software.