Keysight EL34000A Series 1/2-Channel Loads, up to 350W or 2x 300W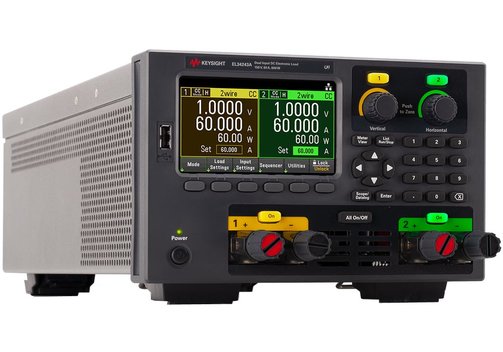 close
Please fill in all fields.
Benefits
Loads with 1 or 2 channels.
Max. power up to 350 W or 2x 300 W.
Advance analysis features such as scope view, data logging, sequencing.
Keysight EL34000A Series 1/2-Channel Loads, up to 350W or 2x 300W
The Keysight EL34000A Series programmable DC electronic loads provide superior performance in compact bench form factor. Ideal for design/verification of consumer power supplies, batteries, battery modules, solar panels, LED drivers, as well power converters, or characterize wide band gap semiconductors such as MOSFET and IGBT. Advance features include scope view, data logging, sequencing, and more, enable you to measure, capture and quickly display your results.
1- or 2-channel electronic loads.
Max. power 1x 350 W or 2x 300 W.
150 V, 60 A (120 A).
CC, CV, CR and CP modes (constant current, constant voltage, constant resistance, constant power).
Local 2-wire and remote 4-wire sense.
High programming/readback accuracy.
Device protection.
Capture voltage and current simultaneously. Save data internally or to a USB stick.
Data logger for static measurements. Battery discharge set EL34000A to CC. Charge battery with E36200 series.
Scope view for dynamic measurements. Measure power supply recovery times with a transient load.
Autoranging and input parallel for DC to DC. Test at more power and current levels. Supply power with E36200 series.
Supported by the PathWave BenchVue software.
Model Overview
Modell
EL34143A
EL34243A
Channels
1
2
Voltage
0...150 V
2x 0...150 V
Current
0...60 A
2x 0...60 A
Parallel current mode
-
120 A
Total power
350 W
2x 300 W
Interfaces
USB, Ethernet/LAN/LXI, optional GPIB; fully SCPI programmable
Command processing time
<10 ms
Display
4.3"/10.9 cm color dislay
Included: EL 34143A or 34243A load, quick start guide, certificate of calibration (CoC).


Agilent's Electronic Measurement Group is now Keysight Technologies.