ITECH IT6000C Series Bidirectional Programmable DC Power Supplies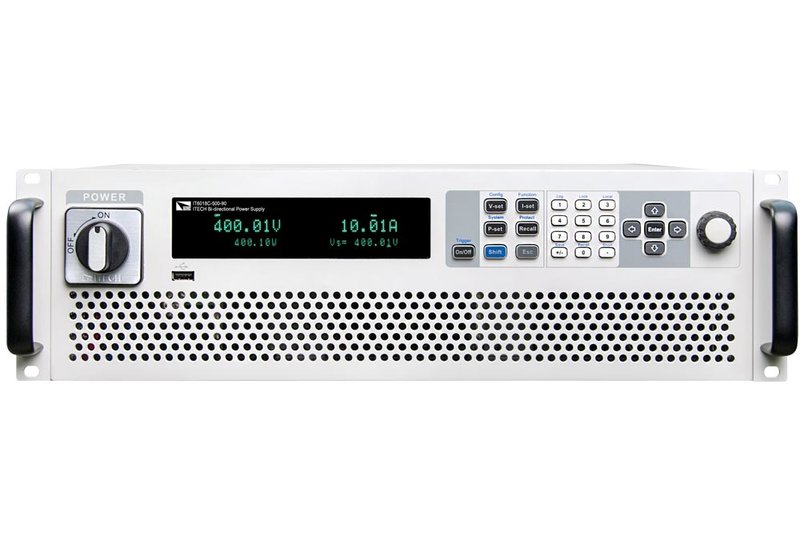 Benefits
Combine source and sink in one device: Seemless 2-quadrant operation.
Energy regenerative capability with high efficiency up to 95%.
Up to 144 kW or even 1.152 MW by paralleling.
ITECH IT6000C Series Bidirectional Programmable DC Power Supplies
The IT6000C series of bi-directional programmable DC power supplies combine source and sink with energy regeneration in one device. Based on these two functions, IT6000C devices offer the functionality of two-quadrant operation. The regenerative capability enables the energy consumed to be fed back onto the grid cleanly, saving costs from energy consumption and cooling, while not interfering with the grid. The IT6000C series includes a variety of models providing output voltages of 80, 300, 500, 800, 1500, and 2250 V. The devices support master-slave paralleling with averaging current distribution and a max. output power up to 144 kW or 1.152 MW by paralleling. The built-in waveform generator generates arbitrary waveforms and can import LIST files for waveforms via the front panel USB port. The IT6000C power supplies combine high reliability, high efficient setting, safe and multiple measurement functions.
Bi-directional source and regenerative sink.
Stand-alone max. output power 144 kW, expandable up to 1.152 MW by paralleling.
Voltage ranges 0 to 2250 V, current ranges 0 to 2040 A.
High power density up to 18 kW in compact 3 U rack space.
Bi-directional power transfer, seamless switch between sourcing and sinking.
High regenerative efficiency up to 95%.
Standard built-in USB, CAN, Ethernet/LAN, and digital-I/O communication interface, optional GPIB, analog, and RS232.
Full protections: Support OVP, ±OCP, ±OPP, OTP*, power down protection, anti-islanding protection.
Support control loop priority mode setting , different loop speed can be set.
Built-in voltage curves complied with LV123, LV148, DIN40839, ISO-16750-2, SAEJ1113-11, LV124, and ISO21848 automotive standards.
Support photovoltaic I-V curves simulation function.
Built-in function generator, support arbitrary-waveform generating.
Adjustable output impedance.
Support multiple working modes, rising and falling time can be adjustable.
Support data saving and the shortest interval of sampling is 10 µs.
Battery simulation function.
Strong dynamic driving profile simulation function, up to 10,000,000 points.
Applications: Renewable energy (solar charger, micro inverter, battery pack, PV inverter), automotive (automotive motors, car charger, automotive electronics, bidirectional DC/DC-converter), high-speed testing (telecom, power semiconductor components, military electronics, LED products, avionics), high-power testing (UPS, electric motor/generator, consumer products, electro plating/welding, ATE systems).
* OVP over power protection, OCP over current protection, OPP over power protection, OTP over temperature protection.
Model Overview
Model
Voltage
Current
Power
IT6005C-80-150
80 V
150 A
5 kW
IT6010C-80-300
300 A
10 kW
IT6015C-80-450
450 A
15 kW
IT6030C-80-900
900 A
30 kW
IT6045C-80-1350
1350 A
45 kW
IT6060C-80-1800
1800 A
60 kW
IT6075C-80-2040
2040 A
75 kW
IT6090C-80-2040
2040 A
90 kW
IT6105C-80-2040
2040 A
105 kW
IT6120C-80-2040
2040 A
120 kW
Model
Voltage
Current
Power
IT6006C-300-75
300 V
75 A
6 kW
IT6012C-300-150
150 A
12 kW
IT6018C-300-225
225 A
18 kW
IT6036C-300-450
450 A
36 kW
IT6054C-300-675
675 A
54 kW
IT6072C-300-900
900 A
72 kW
IT6090C-300-1125
1125 A
90 kW
IT6108C-300-1350
1350 A
108 kW
IT6126C-300-1575
1575 A
126 kW
IT6144C-300-1800
1800 A
144 kW
Model
Voltage
Current
Power
IT6006C-500-40
500 V
40 A
6 kW
IT6012C-500-80
80 A
12 kW
IT6018C-500-120
120 A
18 kW
IT6036C-500-240
240 A
36 kW
IT6054C-500-360
360 A
54 kW
IT6072C-500-480
480 A
72 kW
IT6090C-500-600
600 A
90 kW
IT6108C-500-720
720 A
108 kW
IT6126C-500-840
840 A
126 kW
IT6144C-500-960
960 A
144 kW
Model
Voltage
Current
Power
IT6006C-800-25
800 V
25 A
6 kW
IT6012C-800-50
50 A
12 kW
IT6018C-800-75
75 A
18 kW
IT6036C-800-150
150 A
36 kW
IT6054C-800-225
225 A
54 kW
IT6072C-800-300
300 A
72 kW
IT6090C-800-375
375 A
90 kW
IT6108C-800-450
450 A
108 kW
IT6126C-800-525
525 A
126 kW
IT6144C-800-600
600 A
144 kW
Model
Voltage
Current
Power
IT6018C-1500-40
1500 V
40 A
18 kW
IT6036C-1500-80
80 A
36 kW
IT6054C-1500-120
120 A
54 kW
IT6072C-1500-160
160 A
72 kW
IT6090C-1500-200
200 A
90 kW
IT6108C-1500-240
240 A
108 kW
IT6126C-1500-280
280 A
126 kW
IT6144C-1500-320
320 A
144 kW
Model
Voltage
Current
Power
IT6018C-2250-25
2250 V
25 A
18 kW
IT6036C-2250-50
50 A
36 kW
IT6054C-2250-75
75 A
54 kW
IT6072C-2250-100
100 A
72 kW
IT6090C-2250-125
125 A
90 kW
IT6108C-2250-150
150 A
108 kW
IT6126C-2250-175
175 A
126 kW
IT6144C-2250-200
200 A
144 kW