ITECH IT6100B High Accuracy Programmable DC Power Supplies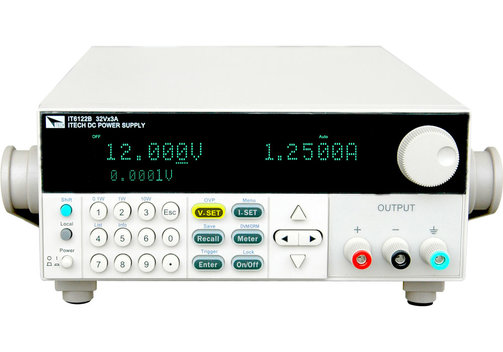 Benefits
Linear programmable power supply with built-in 5½ digital voltmeter.
List mode operation.
Ultrafast voltage rise slew rate.
ITECH IT6100B High Accuracy Programmable DC Power Supplies
The ITECH IT6100B series are high speed high precision programmable DC power supplies with ultra-fast voltage rising slew rate and a resolution up to 0.1 mV/0.01 mA. The output waveform priority mode allows rising waveform of voltage or current to be generated with high-speed and no overshoot, which is widely used in aerospace power modules and other high-precision tests. IT6100B has built-in USB, RS232, and GPIB/IEEE488 communication interfaces and the panel operation supports LIST programming.
High accuracy programmable DC power supplies.
Output linear adjustment, high speed, reliable, low noise.
High accuracy and resolution.
Ultrafast voltage rise slew rate.
Built-in 5½ digit voltmeter and milliohmmeter.
Memory capacity: 100 groups.
LIST mode.
Timer function (0.01...60000 s).
Remote sense, compensate line voltage.
Built-in RS232, USB, and GPIB/IEEE488 interfaces, support SCPI protocol.
Model Overview
Model
Channels
Voltage
Current
Power
IT6162B
1
20 V
50 A
1000 W
IT6164B
1
30 V
60 V
40 A
20 A
1200 W