Keysight U1816 Series USB Dual-SP6T Switches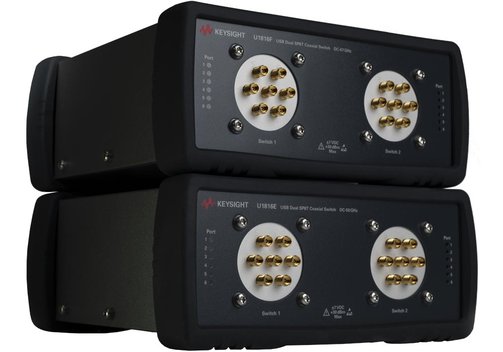 close
Please fill in all fields.
Keysight U1816 Series DC to 8, 26.5, 50, or 67 GHz Dual-SP6T EM Switches
High density EM switches for test port extension in signal routing applications.
Greatly extend number of test ports for multi-DUTs or multiport devices measurement, eg. 5G FR2.
Achieve lower cost-per-port or overall cost of test without compromising performance.
USB dual-SP6T.
Broad operating frequency band from DC up to 8, 26.5, 50, or 67 GHz.
Superior isolation minimizes port-to-port cross talk, eg. 65 dB min. at 67 GHz.
Low insertion loss and VSWR.
5 or 1 million cycles with RF performance tested each switching cycles.
Model Overview
Model
U1816A
U1816C*
U1816E
U1816F
Frequency range
DC...8 GHz
DC...26.5 GHz
DC...50 GHz
DC...67 GHz
Isolation
100 dB
DC...12 GHz: 100 dB
12...15 GHz: 80 dB
15...20 GHz: 70 dB
20...26.5 GHz: 65 dB
DC...9 GHz: 95 dB
9...26.5 GHz: 85 dB
26.5...40 GHz: 75 dB
40...50 GHz: 70 dB
DC...9 GHz: 95 dB
9...26.5 GHz: 85 dB
26.5...40 GHz: 75 dB
40...54 GHz: 70 dB
54...67 GHz: 65 dB
Insertion loss
0.3 dB + 0.015 x frequency (GHz)
0.35 dB + 0.023 x frequency (GHz)
VSWR
DC...4 GHz: 1.20
4...8 GHz: 1.35
DC...4 : 1.20
4...12.4 GHz: 1.35
12.4...18 GHz: 1.45
18...26.5 GHz: 1.70
DC...4 GHz: 1.15
4...12.4 GHz: 1.20
12.4...20 GHz: 1.35
20...30 GHz: 1.40
30...50 GHz: 1.60
DC...4 GHz: 1.15
4...12.4 GHz: 1.20
12.4...20 GHz: 1.35
20...30 GHz: 1.40
30...54 GHz: 1.60
54...67 GHz: 1.92
Life cycles
5 million
1 million
Switching speed
15 ms
Connector
SMA (f)
2.4 mm (f)
1.85 mm (f)
Interface
USB
Supply power
15...19 V (power adaptor provided)
Dimensions (mm)
104 x 233 x 245; 2.43 kg
* Version U1816CS40: DC...40 GHz