Keysight L7xxx Series Multiport Electromechanical Coaxial Switches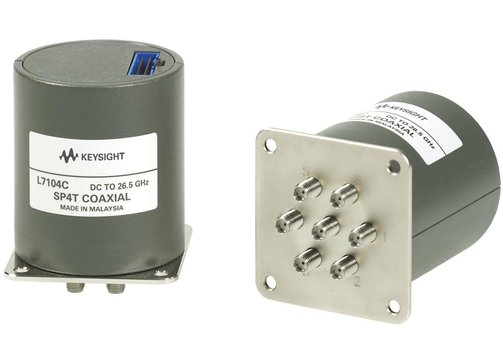 close
Please fill in all fields.
Benefits of the Keysight L-Series EM Switches
RF EM switches with SP4T or SP6T topology.
DC to 26.5 GHz.
Terminated and unterminated models.
Keysight L7xxx Series EM Switches, RF/Microwave Coaxial Fixed Attenuator
The Keysight L-Series offers <0.03 dB insertion loss repeatability guaranteed for 2 million cycles and a long operating life of 5 million cycles (typical). The modules have high isolation of typically >85 dB at 26.5 GHz. The L-series covers a wide frequency range of DC to 4, 20, or 26.5 GHz and are available at an economical price.
Models Keysight L7104 A/B, L7204 A/B, L7106 A/B, L7206 A/B, L7222C
Model
Frequency
Termination
Average power
Peak power
Isolation
Insertion loss
SWR
Speed
Life cycle
Driving voltage
RF connectors
SP4T
L7104A
DC...4 GHz
Terminated
1 W
50 W
90 dB
0.36 dB
1.2
15 ms
2 million
24 VDC
SMA (f)
L7204A
DC...4 GHz
Unterminated
2 W
100 W
90 dB
0.36 dB
1.2
15 ms
2 million
24 VDC
SMA (f)
L7104B
DC...20 GHz
Terminated
1 W
50 W
90 dB
0.6 dB
1.45
15 ms
2 million
24 VDC
SMA (f)
L7204B
DC...20 GHz
Unterminated
2 W
100 W
90 dB
0.6 dB
1.45
15 ms
2 million
24 VDC
SMA (f)
L7104C
DC...26.5 GHz
Terminated
1 W
50 W
60 dB
0.7 dB
1.7
15 ms
2 million
24 VDC
SMA (f)
L7204C
DC...26.5 GHz
Unterminated
2 W
100 W
60 dB
0.7 dB
1.7
15 ms
2 million
24 VDC
SMA (f)
SP6T
L7106A
DC...4 GHz
Terminated
1 W
50 W
90 dB
0.36 dB
1.2
15 ms
2 million
24 VDC
SMA (f)
L7206A
DC...4 GHz
Unterminated
2 W
100 W
90 dB
0.36 dB
1.2
15 ms
2 million
24 VDC
SMA (f)
L7106B
DC...20 GHz
Terminated
1 W
50 W
90 dB
0.6 dB
1.45
15 ms
2 million
24 VDC
SMA (f)
L7206B
DC...20 GHz
Unterminated
2 W
100 W
90 dB
0.6 dB
1.45
15 ms
2 million
24 VDC
SMA (f)
L7106C
DC...26.5 GHz
Terminated
1 W
50 W
60 dB
0.7 dB
1.7
15 ms
2 million
24 VDC
SMA (f)
L7206C
DC...26.5 GHz
Unterminated
2 W
100 W
60 dB
0.7 dB
1.7
15 ms
2 million
24 VDC
SMA (f)
Transfer
L7222C
DC...26.5 GHz
Unterminated
1 W
60 W
57 dB
0.9 dB
1.65
15 ms
2 million
24 VDC
SMA (f)
Options (on request, please call)
Option
Option type
Description
For model(s)...
-T24
Control logic
TTL/5-V-CMOS compatible logic with 24 VDC supply
L7104A, L7204A, L7104B, L7204B, L7104C, L7204C, L7106A, L7206A, L7106B, L7206B, L7106C, L7206C
-024
Control logic
24 VDC
-161
DC connectors
Ribbon receptacle
-100
DC connectors
Solder terminals
-161
DC connectors
10-PIN DIP
L7222C
-100
DC connectors
Solder terminals and 10-PIN DIP
-201
Accessories
Mounting brackets; assembly required