Rigol MSO5152-E 2-Channel Mixed Signal Oscilloscope, 150MHz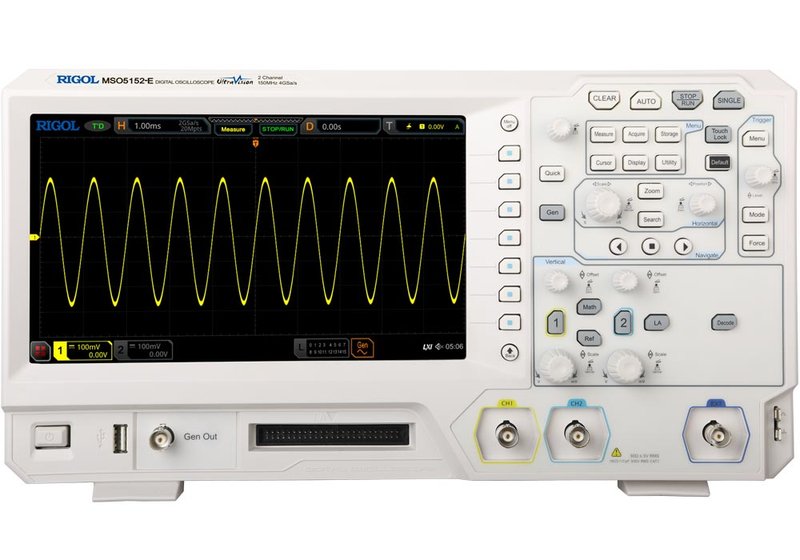 close
Please fill in all fields.
Promotion until 2020-9-30, extended to September 30., 2021: Free of charge BND application bundle incl. all option such as AWG, serial decode etc. (more details see options).
Benefits of the Rigol MSO5152-E UltraVision II Oscilloscope/MSO with Touchscreen
Low-cost 2-channel oscilloscope up to 150 MHz, max. 4 GS/s.
Memory depth max. 50 Mpts, optional 100 Mpts.
Max. 300,000 Wfms/s waveform capture rate, up to 450,000 frames realtime record and replay.
Rigol MSO5152-E 2-Channel Mixed Signal Oscilloscope up to 150 MHz
The Rigol MSO5152-E is a high-performance oscilloscope model based on the UltraVision II technology. With a 9"/22.9 cm capacitive multitouch screen, the MSO5152-E integrates 7 independent instruments into one, delivering super sample bandwidth ratio, extremely high memory depth, and other excellent specifications.
Analog bandwidth: 150 MHz.
2 analog channels, 1 EXT channel, and a standard configuration of 16 digital channels (MSO/mixed signal oscilloscope, requires the purchase of optional digital probe).
Up to 4 GS/s real-time sample rate (4 GS/s single-channel, 2 GS/s all channels).
Up to 50 Mpts/optional 100 Mpts memory depth (analog channel: 50 Mpts/optional 100 Mpts single-channel, 25 Mpts/optional 50 Mpts all channels; digital channel: 25 Mpts).
High waveform capture rate (over 300,000 Wfm/s).
Auto measurement of 41 waveform parameters; full-memory hardware measurement function
A variety of serial protocol triggers and decodes.
Up to 450,000 frames of hardware real-time and ceaseless waveforms recording and playback functions.
Independent search, navigation keys, and event table.
Built-in advanced power analysis software (option).
Integrates 7 independent instruments into 1, including a digital oscilloscope, a logic analyzer (optional logic probe required), a spectrum analyzer, an arbitrary waveform generator (option), a digital voltmeter, a frequency counter and totalizer, and a protocol analyzer (option).
9"/22.9 cm capacitive multi-touch screen, 256-level intensity grading display, with color persistence.
Multiple interfaces available: USB Host & Device, Ethernet/LAN (LXI), HDMI, TRIG OUT, and USB-GPIB (optional adaptor required).
Web control remote command.
Unique online version upgrade.
Novel and delicate industrial design, easy to operate.
Included: MSO 5152-E, power cord, USB cable (CB-USBA-USBB-FF-150), 2 passive probes (PVP2350, 350 MHz), quick guide (hard copy).