bmcm NextView5 Measurement Software for Data Acquisition and Analysis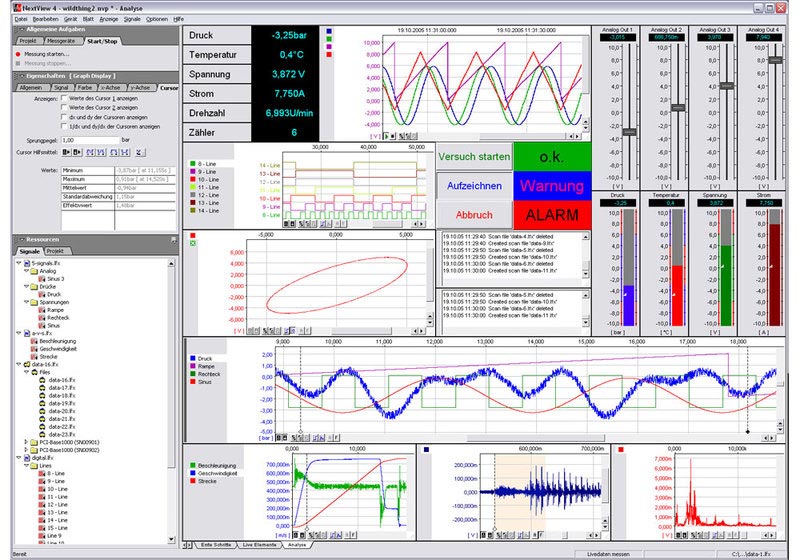 close
Please fill in all fields.
Benefits of the DAQ, Control and Visualisation Software NextView5
Configuration, acquisition, visualisation, analysis for the bmcm DAQ systems.
Application-oriented - no programming.
Easy to learn, easy to use.
bmcm NextView5 Measurement Software for Data Acquisition and Analysis
Visualize, control, automate, configure, scan, analyze, and document with one software. You can realize your measurement applications completely without any programming efforts. The full version features all functions of the software. Get the 30-day trial full version and try out yourself how easy it is to display, record, and analyze signals with NextView - without any programming.
Visualize, configure, scan, analyze:
One software for everything. NextView covers the entire world of PC measurement data acquisition: displaying live data, recording measured values, analyzing your measurement applications - and even much more.
Application-oriented - no programming:
NextView puts a main focus on user friendliness and practical use. An intuitive operating concept (e.g. Drag & Drop) guarantees extremely short training periods to get results fast. Programming skills are not necessary.
Show signals. Live or recorded:
Analog, digital, or CAN signals provided by the DAQ hardware can be shown online as graphs, numerical values, or levels. Display and analysis of measuring data stored or imported in a file is done in a graph display.
Intelligent handling of the measured quantity:
Once conversion factors and unit have been entered, NextView will always display your signals and analysis results as physical quantities. After all, you do not want to see voltages but that what you measure: temperature, pressure, speed - whatever you like.
MultiScan & File Train - Trigger & Prehistory:
Ideal for long-term measurements and interference monitoring. The MultiScan creates single files (back-to-back), which are already available for analysis while the scan is still running. Use the FileTrain function to reconnect these files. This is necessary for analyses beyond file limits, for example. If a trigger - optionally with prehistory - has been set, measured data are only stored for a defined period of time when or before the trigger event occured.
New Features in Version NextView5
For 64 bit Windows 10 and 8.1.
Get measurements faster: Simply copy channel parameters or set them simultaneously by multiple selection.
Global Offset: Set selected channels to zero simultaneously.
Lock project - with and without password protection.
Change hardware with one click: The hardware configuration is now integrated in NextView.
New bmcm measurement hardware supported.
Upgrades from version 4 to 5 available.
Note: NextView5 is available in 64 bit only. For users with an older 32 bit systems, NextView4 is still available on request. In general, the use of NextView5 is recommended.
Versions Overview
NextView5-LITE
NextView5-PRO and TRIAL
NextView5-AN
Description
Lowcost version with reduced functions
Full/professional version or 30-day trial version
Full analysis section of NextView
Number of DAQ systems
1
Unlimited (also of different type)
-
Formula channels
-
16
-
Storage types
Current value, average
(rate 1:20)
Current value, average, min, max, RMS (rate 1:1 to 1:1000)
-
Trigger (with prehistory)
-
+
-
MultiScan
-
+
-
Aut. numbering of measuring files
+
+
-
Picture
-
+
+
Static text
+
+
-
Digital multimeter
+
+
-
Active alarm function
+
+
-
Live display
+
+
-
Level indicator
-
+
-
Stop, scroll, zoom in live data
-
+
-
Graph display
+
+
+
Signal representation in panes
-
Live display, graph display
Graph display
x/y representation
-
+
+
Cursors
+
+
+
Cursor jumps
-
+
+
Calculation of signal parameters (e.g. min/max)
-
+
+
FileTrain
-
+
+
Export
+
+
+
Export signal values to clipboard
-
+
+
Import
-
+
+
Calculation of signals
-
+
+
Integration
-
+
+
Differentiation
-
+
+
FFT
-
+
+
Digital filters
-
+
+
Repeat last analysis
-
+
+
Batch job
-
+
+
Message display
+
+
+
(Push-) Button
-
+
+
Slider
-
+
-
NextView5 Script option (for charge)
+
+
+
Lock project
-
+
+
Print
Graph display, message display
+
+
Print preview
Graph display, message display
+
+
NextView5-SCRIPT

Additional module for NextView5, user-friendly programming language similar to BASIC.
Automation of processes.
Realization of individual applications.
Event-oriented.
Programming of control processes (e.g. in case of alarm).
System requirements:
Min. Pentium 400 MHz, 1 GHz recommended, min. 256 MB RAM, 512 MB recommended. Windows 8/10 (64 bit).
Supported hardware:
NextView supportes all currently available DAQ systems from bmcm, such as: USB-AD series, USB-PIO, LAN-AD, PCI-PIO, BASE-PCI and BASE-PCIe. Several devices are represented as one measuring system.