PicoSource AS108 8GHz Agile Synthesizer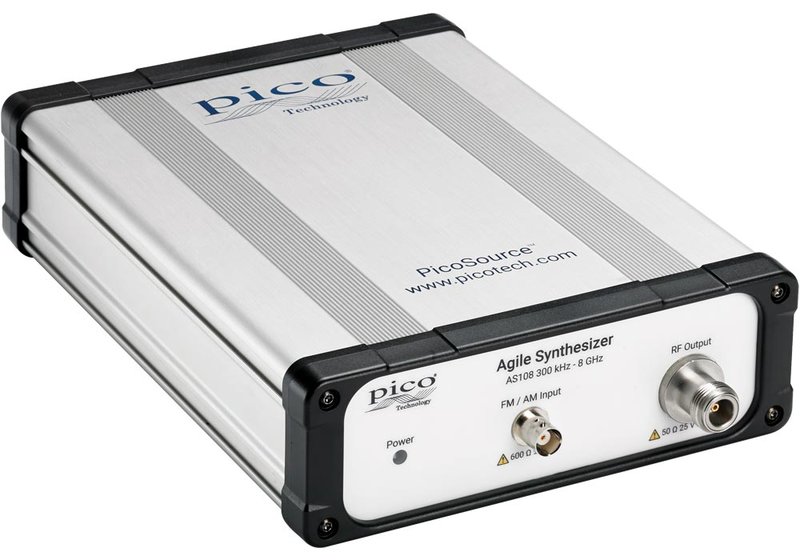 close
Please fill in all fields.
Benefits of the PicoSource AS108 USB PC Synthesizer up to 8.192 GHz
Professional and portable synthesizer at low cost.
Frequency range 300 kHz to 8.192 GHz.
USB-controlled from a Windows PC or tablet.
PicoSource AS108 8 GHz Agile Synthesizer.
The PicoSource AS108 agile synthesizer is designed to meet the needs of both benchtop and integrated module applications. Its broad 300 kHz to 8 GHz frequency range, fast settling and programmable phase, frequency and amplitude match it to a wide range of applications, with the added advantages of low cost, small footprint and 12 V to 15 V power requirement.
300 kHz to 8 GHz operation.
-15 dBm to +15 dBm dynamic range.
Fast 55 µs frequency settling time to 10 ppm.
Fast amplitude settling: <25 µs to 1 dB and <200 µs to 0.1 dB.
Sweep, hop and list of frequency and level or phase and level.
-100 dBc/Hz phase noise typical at 1 GHz and 10 kHz offset.
AM, FM, ΦM modulation, internal sine or external input.
Configurable stand-alone operation mode.
External reference clock I/O and trigger I/O.
Compact and portable.
Use sweep lists to emulate schemes such as QPSK, QAM, ASK, FSK
Adjustable dwell and trigger sweep or trigger next point modes.
Work in and convert units of measure to suit application.
Programming examples for LabVIEW, C, C#, Python, MATLAB.
Suited to bench, field and system integration applications.
USB-controlled from Windows PC and display or tablet.
Touch, mouse, keyboard or remote interface software (API included).
Multi-unit operation with synchronized modulation, sweeps, hops and lists.
Included: PicoSource AS 108 (ordering code PQ163), power supply adaptor, PicoSynth2 software (download).