Indu-Sol PROFtest II XL PROFIBUS Handheld Cable Tester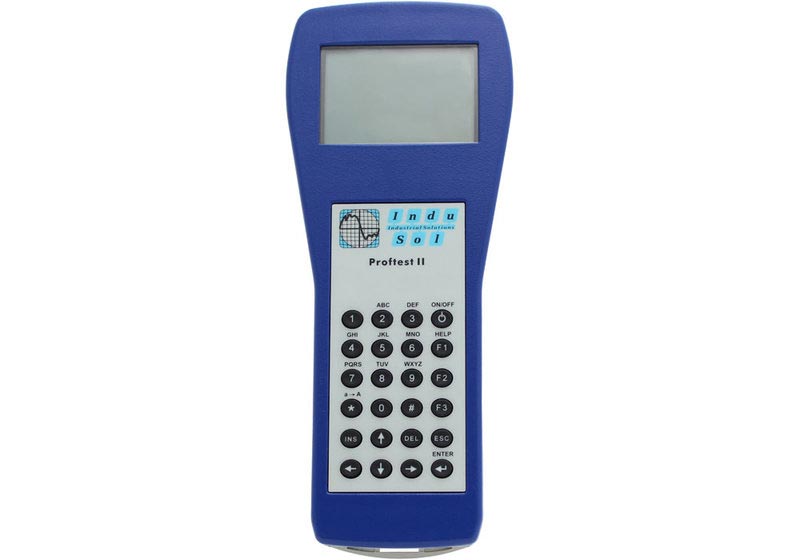 close
Please fill in all fields.
Benefits of the PROFtest II XL for Reliable Testing of Cables in a PROFIBUS System
Ideal measurement tool for commissioning, maintenance and service.
Handy tool for verification of correct wiring in PROFIBUS networks.
Easy to use with significant plain text on display.
Indu-Sol PROFtest II XL PROFIBUS Handheld Cable Tester
The PROFIBUS cable tester PROFtest II XL checks the correct cable installation in PROFIBUS networks. The measurement instrument indicates the real cable length and detects line breaks accurate to the meter. The cable test is carried out during offline operation.
Measurement instrument for the verification of the correct wiring in PROFIBUS networks.
For use with RS485-based PROFIBUS with rates of 9.6 kbit/s...12 Mbit/s.
The cable-test will be taken basically offline.
Shows the avoidable weak spot in meter distance on the display.
Easy to use, menu-guided operation.
Test in several steps and on both ends of each line segment: Test without termination, test with one termination, test with two terminations.
All results can be stored in the instrument. A report can be printed via PC.
Supplied by batteries or power supply.
Dimensions (WxBxD, mm) 230 x 98 x 53.
Measurements - Error Messages of the PROFtest II XL
Display of actually laid line length.
Baud rate scan.
Line impedance measurement.
Correct termination.
Line interruption.
Shield interruption.
Mixed-up lines A-B.
Short circuit line A-B.
Short of line A/B - shield.
Using wrong line types.
Determining reflections.
Non-admissible spur line lengths.
List of all devices accessible at bus.
Transmission/receiving level.
Included: PROFtest II XL measuring tool (without DP master function), measuring adaptor connecting PROFtest II to PROFIBUS (K348 Y-cable, K349 cable, K486 stub line), connection cable K415 (connection to PROFIBUS), 2 batteries/power supply/loading station, user manual, CD/software.