Icron Ranger 2304 USB 2.0 Extender over 100 m Cat5e/6/7, 4-Port Hub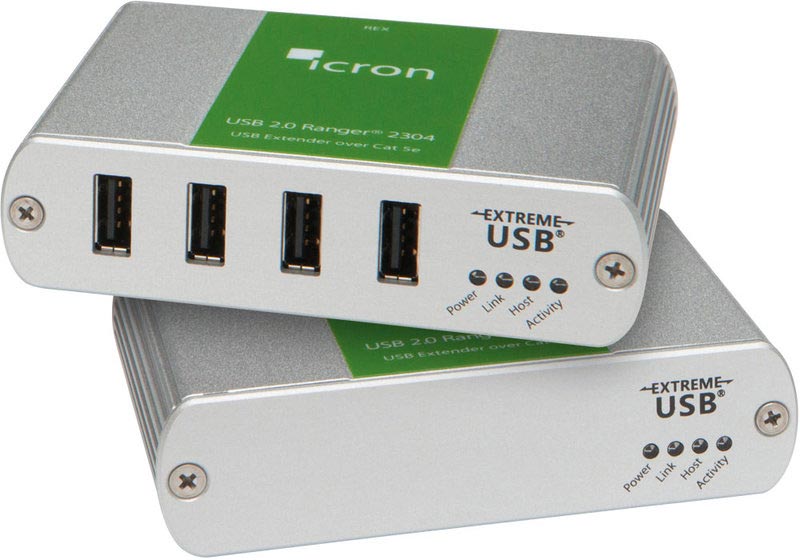 Scaled Prices
taking 1 pc.
taking 3 pc.
close
Please fill in all fields.
Benefits of the Ranger 2304 USB Extender with 4x Hub
Extension for USB 2.0 over Cat5e/6/7 cable.
Distances up to 100 m. 4-port hub.
Easy connectivity with two extender modules.
Icron Ranger 2304 - Extend USB 2.0 over 100 m Cat5e/6/7 Copper Cable, Integrated 4-Port Hub
These modules are used to extend the USB transmission with 100 m. The extenders are connected with commercially obtainable standard Cat5e/6/7 Ethernet cable. Integrated 4-port hub on REX side.
Model Overview
| | |
| --- | --- |
| Model | Ranger 2304 |
| Ordering Code | 00-00348 |
| Series | ExtremeUSB 2.0 |
| Extender | USB 2.0 up to 480 Mbps/Lowspeed and Fullspeed; compatible with USB 1.1 |
| Distance | 100 m |
| Ports | 1 to 4 |
| Medium | Cat5e/6/7 copper/Ethernet cable |
| Model | 2 modules (LEX and REX) |
| Power supply | Power supply at REX |
| Applications | Industrial control, KVM extension, digital signage, security: Web camera, access control and more |
| Software | Transparent, no additional driver software required |
LEX = Local Extender, extender module at host.
REX = Remote Extender module.
Included: LEX, REX, power supply adaptor. Cat5e/6/7 cable not included!

Frequently Asked Questions:
Question: How far can I extend USB?
Answer: USB itself is very limited in this respect. USB 2.0 allows a maximum of 5 m (without hubs). With hubs of course more distance is possible, but the setup may become quite unreliable and "shaky". USB 3.0 does not specify a maximum cable length but limits for the electrical parameters within which the SuperSpeed operation works safely. Depending on the cable design and quality, the maximum cable length is 3 m, and typically only 1 m for USB 3.1.
▸USB extensions from Icron provide a good solution to solve the problem. Depending on the version, they can extend USB via Cat copper cables or fiber optic cables. USB 3.2 can be extended up to 10 m via Cat copper cable, USB 3.1 and 2.0 up to 100 m. Via fiber optics, USB 3.1 can be extended to 200 m, USB 2.0 even up to 500 m or 10 km. Standard Cat Ethernet cable or single-mode or multi-model fiber optic cable is used.
Question: How do I install an Icron extension?
Answer: The easiest way is with the ▸Icron Spectra 3001-15, because here the entire extension is already integrated into a 15 m cable with USB plug and socket - so just use it like an "extension cable".
All other Icron models always consist of a LEX (Local Extender) and a REX (Remote Extender). Again, installation is very simple: the LEX is connected to the local USB port (e.g. on the PC/laptop) via the supplied USB cable. The REX is placed at the remote location and connected to the devices there, such as cameras, storage, etc. Many REX models have an integrated hub so that several remote devices can be connected at once. Depending on the model, LEX and/or REX may require a power supply. Now LEX and REX are simply connected via standard Cat- or fiber-optic cable (for possible specifications and lengths see data sheet of the respective extender models).
Question: Do I need special software for the Icron USB extenders?
Answer: No, the Icron USB extenders work completely transparent without any special drivers or additional communication software.