TekBox TBCP Series RF Current Monitoring Probes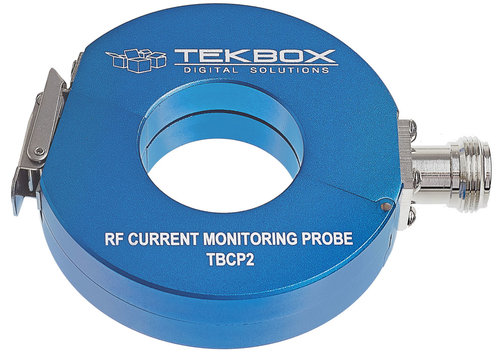 close
Please fill in all fields.
Benefits of the TekBox TBCP Series Current Monitoring Probes with Fixed Aperture or Snap-on
Frequency from 10 kHz to 1 GHz.
Apperture radius from 17 mm to 32 mm
Max. primary current (RF) 3 A, transfer impedance close to 20 dBΩ.
TekBox TBCP Series RF Current Monitoring Probes
Models TBCP1, TBCP2, TBCP3, TBCP4
The TekBox TBCP1, TBCP3, and TBCP4 series are fixed aperture RF current monitoring probes, the TBCP2 series are snap-on RF current monitoring probes. Depending on the model they cover a frequency range from 10 kHz up to 750 MHz or from 30 kHz up to 1 GHz.
The TekBox TBCP1-CAL, TBCP2-CAL, TBCP3-CAL, and TBCP4-CAL are calibration fixtures for the corresponding RF current monitoring probes. RF current probe calibration fixtures are used in combination with a VNA/vector network analyzer or spectrum analyzer equipped with a tracking generator in order to measure the transfer impedance of RF current monitoring probes.
Model Overview
Model
TBCP1-200
TBCP1-250
TBCP1-500
TBCP2-30K400
TBCP2-250
TBCP2-500
TBCP2-750
TBCP3-1000
TBCP4-250
TBCP4-500
TBCP4-750
Characterized frequency range
10 kHz...200 MHz
30 kHz...250 MHz
30 kHz...500 MHz
10 Hz...500 MHz
10 kHz...250 MHz
10 kHz...500 MHz
10 kHz...750 MHz
30 kHz...1 GHz
10 kHz...250 MHz
10 kHz...500 MHz
10 kHz...750 MHz
Aperture diameter
25 mm
25 mm
25 mm
32 mm
32 mm
32 mm
32 mm
17 mm
32 mm
32 mm
32 mm
Outside diameter
76 mm
76 mm
76 mm
73 mm
73 mm
73 mm
73 mm
52 mm
73 mm
73 mm
73 mm
Height
31 mm
31 mm
31 mm
20 mm
20 mm
20 mm
20 mm
14 mm
20 mm
20 mm
20 mm
Weight
320 g
320 g
320 g
320 g
320 g
320 g
320 g
55 g
320 g
320 g
320 g
Connector type
N female
N female
N female
N female
N female
N female
N female
SMA female
N female
N female
N female
Transfer impedance
3...17 dB%Ω
0...18 dBΩ
-6...20 dBΩ
2 dBΩ with a 3 dB bandwidth from 30 kHz...400 MHz
0...16 dBΩ between 100 kHz and 250 MHz
0...20 dBΩ between 150 kHz and 500 MHz
0...22 dBΩ between 150 kHz and 750 MHz
20 dBΩ
14 dBΩ
16 dBΩ
20 dBΩ
Max. primary current
DC...400 Hz: 80 A;
RF: 3 A
DC...400 Hz: 80 A;
RF: 3 A
DC...400 Hz: 80 A;
RF: 3 A
DC...400 Hz: 25 A
RF: 2 A
DC...400 Hz: 80 A;
RF: 3 A
DC...400 Hz: 80 A;
RF: 3 A
DC...400 Hz: 80 A;
RF: 3 A
DC...400 Hz: 30 A;
RF: 4 A
DC...400 Hz: 80 A;
RF: 3 A
DC...400 Hz: 80 A;
RF: 3 A
DC...400 Hz: 80 A;
RF: 3 A
Max. core temperature
125°C
125°C
125°C
125°C
125°C
125°C
125°C
125°C
125°C
125°C
125°C