USB-4COM-PRO USB to 4x RS232, RS422, RS485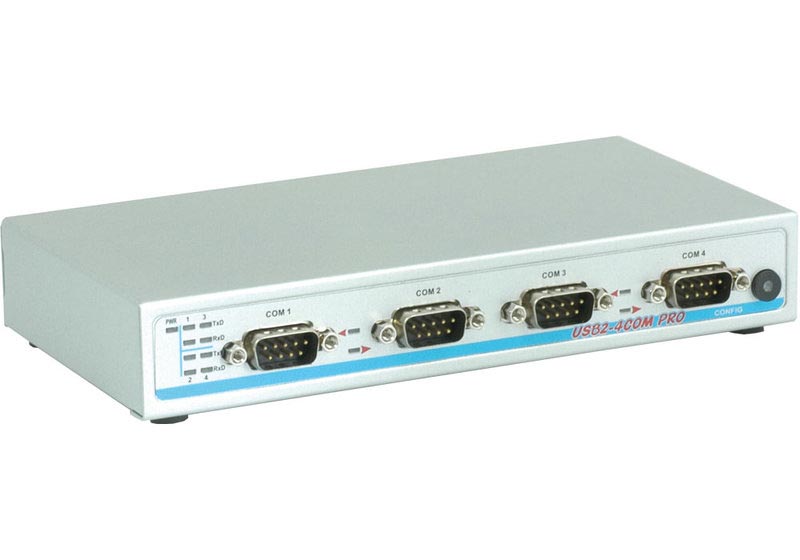 EOL/obsolete, not available anymore
Benefits
Robust industrial converter from USB to RS232/422/485.
4 Ports.
Wall or DIN-rail mountable.
Industrial Converters USB-4COM-PRO from USB to 4x RS232 and/or RS422/485 in Metal Housing
These converters from USB to serial match the requirements of many industrial applications: They are DIN-rail mountable and have metal housings.
Converters from USB to RS232 and/or RS422/RS485.
4 serial ports. 9-pin D-sub male connectors.
Robust metal houtings. Wall or DIN-rail mountable.
RS232/422/485 software-configured.
Rates up to 921.6 kbps (RS232) and/or 3 Mbps (RS422/485)
For USB 2.0.
Model Overview
Model
Converter
Rate
Isolation
Size (mm)
Power supply
from
to
USB-4COM-PRO
USB 2.0
4x RS232, RS422, RS485*
RS232 bis 921.6 kbps,
RS422/RS485 bis 3 Mbps
-
172 x 95 x 29
external
* Software-selectable.
Included: Converter, USB cable, power supply, instructions for use.
Software: Drivers for Windows and Linux via download.