BP backplane for MAL miniature measuring amplifiers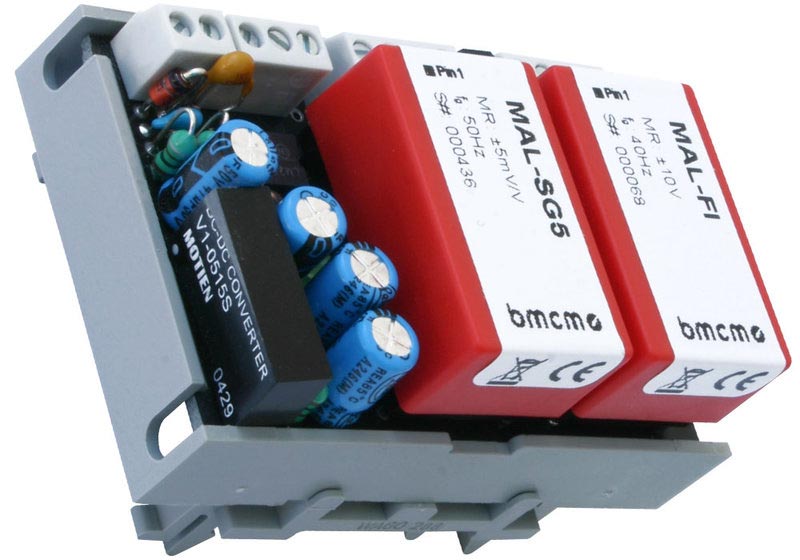 close
Please fill in all fields.
Backplane for MAL miniature measuring amplifiers.
Up to two or sixteen measuring amplifiers, converters, or any other function modules can be integrated on the BP series. If installed close to the signal, it provides for high interference resistance. Ideal for remote signal conditioning of passive sensors. In type of construction, the cost-effective MAL modules are designed like a 24-pin DIL IC. Measurement applications can therefore be realized even in problematic locations. The great variety of available amplifier modules allows for the solution of the most individual measuring tasks - individual, compact, and simple.
2 or 16 DIL sockets for MAL amplifiers.
Connection via screw terminals or, on the BP16, via 37-pin D-sub female.
BP2: 9...40 V.
BP16: 9...30 V.
Available as a DIN-rail mountable version, in an IP65 box or in a bmcm system housing.
Model Overview
| | | | | | | |
| --- | --- | --- | --- | --- | --- | --- |
| Model | Channels/MAL sockets | Housing | Size (LxWxH, mm) | Power supply | Connectors, inputs | Connectors, outputs |
| BP2 | 2 | Board and DIN-rail mountable adaptor | 65 x 45 x 35 | +9...40 VDC, typ. 0.5 W, max. 1,5 W | Screw terminals | Screw terminals |
| BP2-BOX | 2 | IP65 box, plastic | 100 x 85 x 35 | +9...40 VDC, typ. 0.5 W, max. 1.5 W | Screw terminals | Screw terminals |
| BP16 | 16 | bmcm system housing, IP30 | 167 x 113 x 30 | +9...30 VDC, min. 0.3 W, max. 4 W | 37-pin D-sub female | 37-pin D-sub female |