Brainboxes CC Series 2-Port High-Speed RS422/RS485 Interface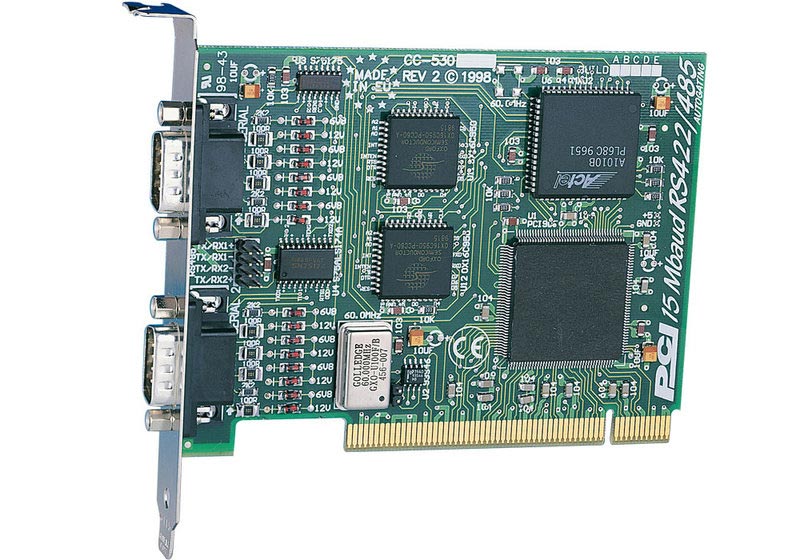 close
Please fill in all fields.
Benefits of the CC-525, CC-530 Serial Interface Boards for PCI
High transmission rates on RS422, RS485 up to 18 MBaud.
2 ports with transient spike protection.
128 Byte deep FIFO.
Brainboxes CC Series 2-Port High-Speed RS422/RS485 Interface
The Brainboxes CC series highspeed serial interface boards can run at a speed of up to 15 or 18 MBaud. The cards have on-board zener diodes giving transient spike protection to the inputs, making it ideal for factory automation installations. A 128 Byte deep FIFO guarantees uncompromising performance and fault free use.
2 RS422/RS485 ports.
Rates of up to 15 or 18 MBaud.
128 Byte Tx and 128 Byte Rx FIFOs.
Two 9-pin D-sub male connectors.
Support for various Windows operating system versions.
Model Overview
Model
Bus
Serial interface
Ports
Type
Rate
Connectors
CC-525
PCI-Ultra 2.3
2
RS422/485
18 MBd
9-pin D-sub male
CC-530
PCI-Ultra 2.3
2
RS422/485
15 MBd
9-pin D-sub male
Included: PC board, installation CD including manual, Microsoft signed drivers and utilities.
Supported operating systems: Microsoft Windows 10,
Microsoft Windows 8 (32 bit and 64 bit editions)
Microsoft Windows 7 (32 bit and 64 bit editions)
Windows Server 2008 (32 bit and 64 bit editions)
Windows Vista (32 bit and 64 bit editions)
Windows XP (32 bit and 64 bit editions)
Microsoft Windows 2000