Yokogawa CA450 Handheld Process Multimeter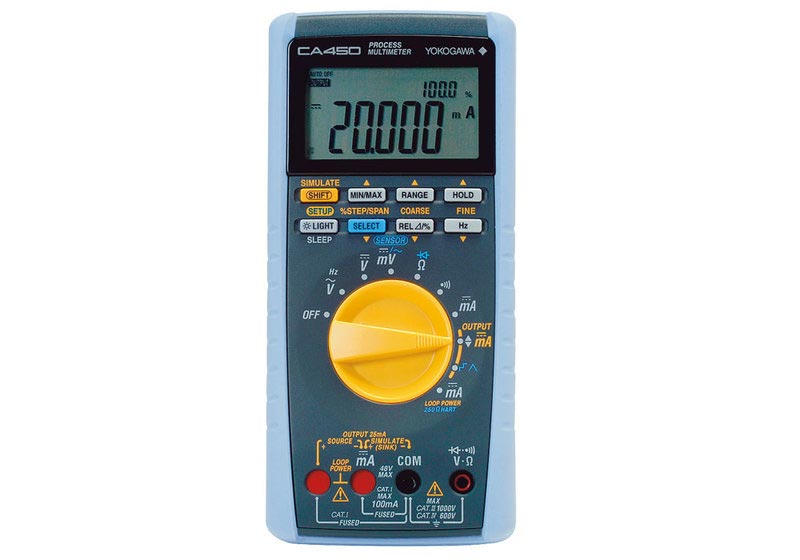 close
Please fill in all fields.
Benefits of the Yokogawa CA450 DMM/Calibrator Combination Device
Rugged handheld process multimeter.
Provides 24-V-loop power.
Built-in, selectable 250-Ω-HART-resistor.
Yokogawa CA450 Handheld Process Multimeter
The Yokogawa CA450 is a portable process multimeter. The CA450 test instrument combines a digital RMS multimeter and a loop calibrator to give process technicians the same functionality in one tool. The Yokogawa CA450 provides 24-V-loop power, reducing the need for carrying a separate power supply when performing transmitter testing. With its built-in, selectable 250 Ω HART resistor, it also eliminates the need for a separate resistor.
Loop check functions

Simultaneous 24 V loop power and mA measurement.
HART/BRAIN mode setting with loop power (250 Ω resistance).

Generation functions

Simulate (sink) function simulates transmitters.
4...20 mA span/step/auto-step/sweep output.

Measurement functions

High-accuracy signal measurement: DC mA 0.05%/30.000 mA.
Handheld digital multimeter function.
Peak/hold function for DCS power peak-to-peak measurement.
Dedicated sensor modes for direct reading of many sensor signal types.

Enhanced safety - helps to eliminate electric shocks

Current terminal shutter prevents incorrect connections.
Sensor function handles AC load current measurement.
Meets 600 V CAT IV, 1000 V CAT III safety standards.

Linking with a PC

Transfer data to a PC via IR-U. DMM communication package can be used to save and manage the measurement data.
Included: Process multimeter CA 450-E, 4 AA batteries, test leads 98073 (1000 V CAT III, 600 V CAT IV red/black 1 set), lead cables 98064 (alligator clip, for control signal only - under 70 V), fuse 99042 (440 mA/1000 V 10 A cut off 1 piece), English instruction manual.
Note The quality test certificate QIC has to be ordered together with the hardware with the initial purchase. Later orders of the QICs are not possible!