Keysight DP0001A High Voltage Probe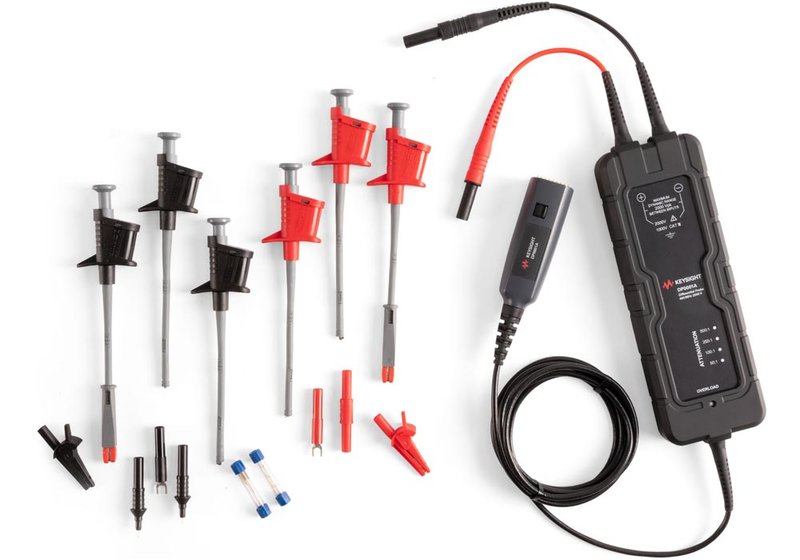 close
Please fill in all fields.
Keysight DP0001A High Voltage Probe
High voltage differential probe, 2 kV CAT I, 1 kV CAT III and 400 MHz. 10 MΩ||2 pF probe loading. AutoProbe interface (50 Ω termination).
Unlocks key general purpose power measurements: 1.2 kV IGBT; 1.7 kV SiC device characterization.
Great for high speed, high voltage power supply design, debug and test.
Compatible with InfiniiVision X3000T, X4000, X6000 oscilloscopes
Model Overview
DP0001A probe and accessory kit.
DP0002A standard alone accessory kit.
| | |
| --- | --- |
| Model | DP0001A |
| Bandwidth | 400 MHz |
| Rise time (10...90%) | 875 ps at <50 V, 250:1 or 500:1 |
| Attenuation ratio (s) | 50:1, 100:1, 250:1, 500:1; manually selected with InfiniiVision scope |
| Max. input voltage | CATI (mains isolated) 2000 VRMS, 6000 V transient overvoltage. CATIII 1000 V |
| Max. CM voltage | ±2000 Vpeak (or ±1400 VRMS) |
| Typical noise (referred to input) | 55 mV at 50:1, 100:1; 75 mV at 250:1, 500:1 |
| Input impedance | 5 MΩ||4 pF (each input to ground); 10 MΩ||2 pF (between inputs) |
| Typical CMRR | >80 dB at DC, >70 dB at 100 kHz, >62 dB at 1 MHz, >50 dB at 3.2 MHz |