Dx000NFCB Keysight InfiniiVision NFC Triggering and Automated Test Software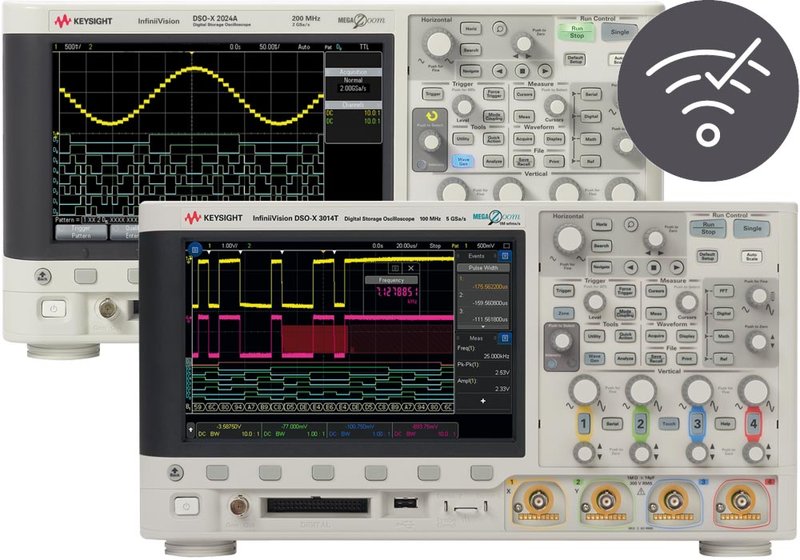 Dx000NFCB Keysight InfiniiVision NFC Triggering and Automated Test Software
The Keysight InfiniiVision series oscilloscope/MSO software-oriented options are available via online licensing. These software-oriented options (such as serial decoding of different buses, mask limit test, power analysis, FRA/Bode) have been bundled into application-specific packages. The packages can be registered and used according to a perpetual license. Other hardware-oriented upgrades such as signal generator, memory, bandwidths and mixed signal upgrades are available as before. The InfiniiVision 1000X series is excluded from this licencing system. The bundles NFCB replace the former bundles NFCA.

The NFC triggering and automated test bundle includes (depending on scope model):
NFC-A, -B, -F (212 kbps), -F (424 kbps) and -V Poller mode PC-based automated tests.
NFC-A, -B, -F (212 kbps), -F (424 kbps) and -V Listener mode PC-based automated tests.
Resonant frequency test.
Hardware NFC triggering.
3-in-1 programmable NFC reference antenna (must be ordered separately).
Model Overview Dx000NFCB
| | | | |
| --- | --- | --- | --- |
| Scope model | InfiniiVision 3000T series | InfiniiVision 4000A series | P9240A series |
| Bundle version | D3000NFCB | D4000NFCB | P9240NFCB |
| NFC trigger and analog compliance test | ✓ | ✓ | ✓ NFC trigger only. NFC automated compliance test software not compatible |
---
Pick the Right Probe for Your Keysight Oscilloscope
| | | | |
| --- | --- | --- | --- |
| Applications | Speed and signal types | Recommended probe | Required probe bandwidth |
| LIN | 625 kbps, single-ended | Passive probes (1 MΩ, single-ended) | >50 MHz |
| ARINC 425 | 100 kbps, differential | N2791A/N2818A | 200 MHz |
| CAN 2.0 | 5 Mbps, differential | N2791A/N2818A | 200 MHz |
| CAN FD | 10 Mbps, differential | N2791A/N2818A | 200 MHz |
| MIL Std 1553 | 1 Mbps, differential, ±25 VPP | N2791A/N2818A | 200 MHz |
| I²S (audio) | approx. 2.8 MHz, single-ended | Passive probes (1 MΩ, single-ended) | >100 MHz |
| I²C/SMbux | <4 MHz, single-ended | Passive probes (1 MΩ, single-ended) | >100 MHz |
| RS232/UART | <10 Mbps, single-ended | Passive probes (1 MΩ, single-ended) | >100 MHz |
| RS422/485 | 10 Mbps, differential | N2791A/N2818A | 200 MHz |
| FlexRay | 10 Mbps, differential | N2791A/N2818A | 200 MHz |
| SPI | 1...100 MHz, single-ended | Passive probes (1 MΩ, single-ended) or N2795A | >100 MHz passive or 1 GHz active |
| MOST | 150 Mbps, differential | N2750A | 1.5 GHz |
| USB 2.0 | 480 Mbps, differential | N2750A | 1.5 GHz |
| USB power delivery | 300 kbps, single-ended | Passive probes (1 MΩ, single-ended) | >50 MHz |
---