Keysight EDU3321xA Function Generators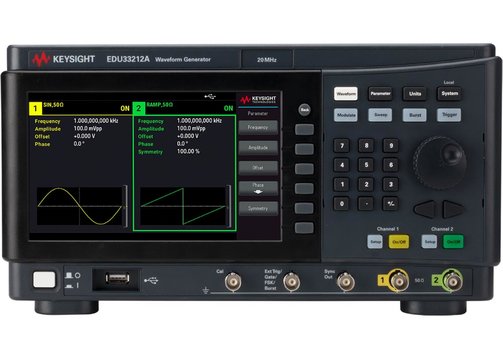 close
Please fill in all fields.
Benefits of the Keysight EDU33211A and EDU33212A Arbitrary Waveform Generators
1-/2-channel 20 MHz waveform generators with high signal integrity.
Education product with industry-grade performance.
PathWave BenchVue Function Generator App and "Keysight Care" included.
Keysight EDU3321xA Function Generators
The EDU33211A and EDU33212A are the 1- and 2-channel waveform generators from the Keysight EDU series. The EDU series offers industry-grade technology and performance as well as modern user interfaces at an affordable price. The devices are a perfect solution for electronics and electrical teaching labs (professors, lab manager) as well as general electronics with very tight budgets.
1-/2-channel function- and arbitrary waveform generators.
High signal integrity.
20 MHz bandwidth.
Low output noise and distortion.
17 built-in popular waveforms.
6 built in modulation.
16 bit arbitrary waveform capability with memory up to 8 MS/channel.
Two independent channels that can be coupled in amplitude and frequency (dual channel model only).
7"/17.8 cm color display.
Standard USB and Ethernet/LAN.
Smart remote connectivity: Standalone PathWave BenchVue Function Generator App included.
Model Overview
Model
EDU33211A
EDU33212A
Channels
1
2
Maximum frequency
20 MHz
Standard waveforms
Sine, square, ramp, pulse, triangle, Gaussian noise, PRBS (pseudorandom binary sequence), DC
Built in arbitrary waveforms
Cardiac, exponential fall, exponential rise, Gaussian pulse, haversine, Lorentz, D-Lorentz, negative ramp, sinc
User defined arbitrary waveforms
Up to 8 MS per channel; with up to 1 MS per waveform; 16 bit
Operating modes
Continuous, modulate, frequency sweep, gated burst; additional on 2-channel model: Independent, coupled parameter(s), combined (channels 1 and 2); equal (channel 1 = channel 2) or differential (ch 1 = -ch 2); parameter coupling: None, frequency (ratio or difference) and/or amplitude and DC offset
Modulation types
AM, FM, PM, FSK, BPSK, PWM
Anzeige
7"/17,8 cm Farb-Display
Interfaces
USB, Ethernet/LAN
Dimensions (mm)
314 x 130 x 165; 3.1 kg
Software
PathWave BenchVue function generator app incl.
Optional: Lab equipment management and remote learning software solution – PathWave Lab Manager and Remote Learning
Support
Tech support and troubleshooting access – KeysightCare Technical Support included


Agilent's Electronic Measurement Group is now Keysight Technologies.