ITECH IT-M3600 Series Regenerative Power System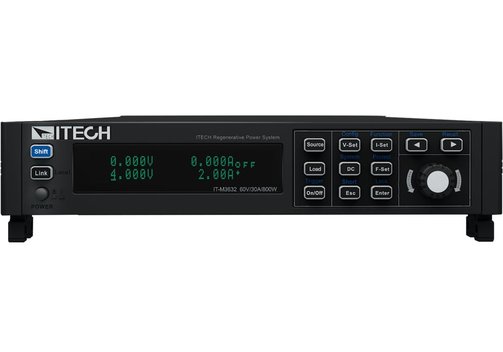 close
Please fill in all fields.
Benefits of theITM3600 DC Power Source System up to 800 W
High flexibility with 8 operating modes.
Programmable voltage and current rise and fall time.
Various protections such as ±OCP, ±OVP, OPP, over heat protection, grid fault protection, fault storag.
ITECH IT-M3600 Series Regenerative Power System
With the IT-M3000 series, ITECH offers a family of versatile power products from DC power supplies, regenerative bidirectional power systems up to electronic regenerative loads.
The IT-M3600 is a regenerative power system that integrates two instruments in one device: A bidirectional power supply and a regenerative electronic load. When being used as a load, its energy recovery function can convert the absorbed DC power into AC power and return it to the local grid. With their high-precision output and measurement, the IT-M3600 devices are suitable for multiple test fields such as multi-module batteries, multi-channel power supplies, micro inverters, and semiconductor devices.
1U half rack, high power density up to 800 W.
One button switches between source and load.
Bidirectional energy flow between DUT and grid.
High efficient power regeneration.
Battery test and simulation.
8 operating modes CC, CV, CP, CR, CV+CC, CC+CR, CV+CR, CV+CC+CP+CR (multiple operation modes only available under load function).
Independent control of multi-channels, implement synchronization or proportional tracking.
Parallel up to 16 units.
High-speed measurement, keep 10 times/s update rate even connecting 16 stand-alone units.
CC/CV priority.
PV inverter I-V curve simulation.
Adjustable output impedance.
Programmable rise/fall time for voltage and current (only current rise and fall time can be set under load function).
LIST function.
Various protection functions such as OCP, UCP, OVP, OTP, OPP, UCP, over heat protection, grid fault protection and fault storage, foldback, power-off protection, sense abnormal protection,
Temperature measurement function, over temperature protection.
Automatic detection of power grid state to realize reliable grid connectio.
Precharge function to prevent overshoot of DC loading current.
Anti-reverse protection function through optional accessories.
Five optional cards, supporting RS232, CAN, LAN, GPIB, USB_TMC, USB_VCP, RS485, analog and I/O communication.
Model Overview
| | | | |
| --- | --- | --- | --- |
| Model | Voltage | Current | Power |
| IT-M3612 | 60 V | 30 A | 200 W |
| IT-M3622 | 60 V | 30 A | 400 W |
| IT-M3632 | 60 V | 30 A | 800 W |
| IT-M3613 | 150 V | 12 A | 200 W |
| IT-M3623 | 150 V | 12 A | 400 W |
| IT-M3633 | 150 V | 12 A | 800 W |
| IT-M3614 | 300 V | 6 A | 200 W |
| IT-M3624 | 300 V | 6 A | 400 W |
| IT-M3634 | 300 V | 6 A | 800 W |
| IT-M3615 | 600 V | 3 A | 200 W |
| IT-M3625 | 600 V | 3 A | 400 W |
| IT-M3635 | 600 V | 3 A | 800 W |