LCR Elite2 Basic LCR Tweezer Probe Meter with Overvoltage Protection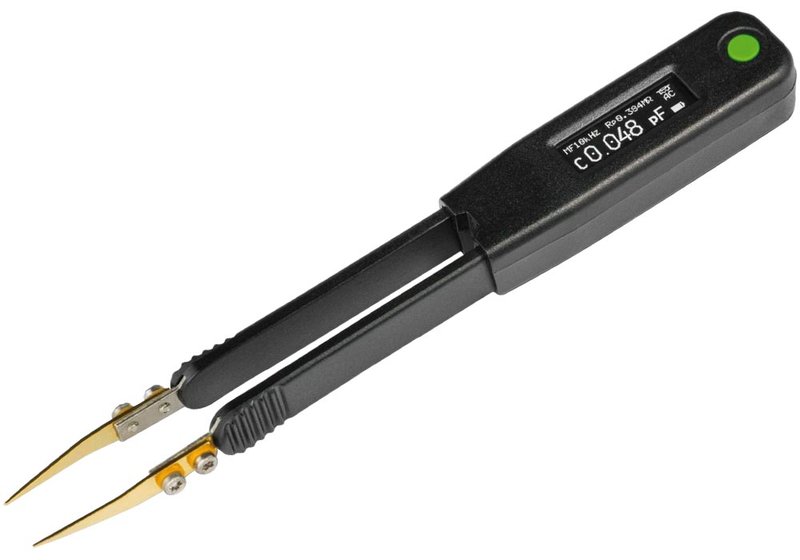 close
Please fill in all fields.
Benefits of the LCR Elite2 Tweezer LCR Meters
LCR meter and tweezer-style probe in one wth clear OLED.
Easy to use with one navigation button only.
With overvoltage protection.
Enhanced Basic Tweezer-Style LCR Meter with 0.2% Basic Accuracy, for SMD Components
The LCR Elite2 is an LCR meter designed to measure inductance (L), capacitance (C) and resistance (R) with high accuracy. It is small, light and super-convenient for you to carry everywhere. The gold-plated precise tips allow you to contact the SMD components easily and reliably with sizes down to 0201. The 4-wire shielded probe improves measurement accuracy and reduces parasitic parameters to a minimum. The highly integrated hardware improves the performance and reduces the size significantly, making the LCR Elite2 an ideal choice for a broad range of applications and missions, including electronics labs, QA inspection, production lines, service center, etc. The LCR Elite2 is an enhanced model and is overvoltage protected by the Aegis Technology which automatically disconnects overvoltage from the meter and shows an "OVER VOLT" message.
Precise gold-plated tips for L, C, R measurement.
Automatic or manual component identification.
Automatic or manual test frequency selection.
Automatic or manual circuit mode.
One hand operation to pick up SMD components easily. Display configurable for right or left hander use.
Overvoltage protection (between test tips) up to ±48 VDC (or ±34 VAC).
Portable design with bright OLED display.
Built-in rechargeable Lithium-ion polymer battery. Long battery life
Standard USB charging via computer or USB power adapter.
Included: LCR Elite 2 portable LCR meter, storage box, quick start guide, NIST certificate.
Model Overview
Model
▸LCR Pro1
▸LCR Pro1 Plus
LCR Elite1 (EOL)
▸LCR Elite2
Accuracy
0.1% (R), 0.2% (C), 0.2% (L)
0.5% (R), 1.0% (C), 1.0% (L)
0.2% (R), 0.2% (C), 0.4% (L)
Test frequency
100 Hz, 120 Hz, 1 kHz, 10 kHz, 100 kHz
100 Hz, 1 kHz, 10 kHz
100 Hz, 120 Hz, 1 kHz, 10 kHz
Test voltage
0.2 VRMS, 0.5 VRMS, 1.0 VRMS (source impedance 100 Ω)
0.45 VRMS (source impedance 100 Ω)
0.5 VRMS (source impedance 100 Ω)
Resistance (R)
✓ (range 20 mΩ...10 MΩ)
✓ (range 20 mΩ...10 MΩ)
✓ (range 25 mΩ...10 MΩ)
✓ (range 20 mΩ...10 MΩ)
Inductance (L)
✓ (range 10 nH...1 H)
✓ (range 10 nH...1 H)
✓ (range 1 µH...1 H)
✓ (range 0.3 µH...1 H)
Capacitance (C)
✓ (range 0.1 pF...10 mF)
✓ (range 0.1 pF...10 mF)
✓ (range 0.3 pF...500 µF)
✓ (range 0.1 pF...5 mF)
Impedance (Z)
✓
-
-
Dissipation factor (D)
✓
-
✓
Quality factor (Q)
✓
-
✓
Phase angle (T)
✓
-
-
Equivalent series resistance (ESR)
✓
✓
✓
Direct current resistance (DCR)
✓
-
-
Diode check
✓
-
-
LED testing
-
✓
-
-
Continuity
✓
-
-
Sorting
✓
-
-
Recording
✓
-
-
Self calibration
✓
-
✓
Protection
-
-
Aegis Technology, over voltage protection (between test tips) up to ±48 VDC (or ±34 VAC); automatically disconnects overvoltage from the meter and shows "OVER VOLT" message
PC connectivity
✓ (optional LCR Link1 required)
-
-
Dimensions (LxWxH, mm)
151 x 19 x 15, 30 g
151 x 19 x 14.5, 30 g
Display
OLED 24.4 mm/0.96", 128 x 64 resolution
OLED 23.1 mm/0.91", 128 x 32 resolution
Battery
3.7 V LiPO, rechargeable, 150 mAh
3.7 V LiPO, rechargeable, 180 mAh
3.7 V LiPO, rechargeable, 150 mAh
3.7 V LiPO, rechargeable, 180 mAh
External power source
DC 5 V, micro-B USB connector
DC 5 V, micro-B USB connector
SMD test probe
Ultra-precise gold plated
Precise gold plated